MY LITTLE PONY: A Maretime Bay Adventure from Publisher Outright Games and Developer Melbot Studios A fun game for kids of any age (even grown up kids) with great mechanics and in game guidance so you never get lost.
MY LITTLE PONY: A Maretime Bay Adventure is a third person Pony adventure game. You play as Earth Pony Sunny who wants to make the world a better place by hosting Maretime Bay Day, a forgotten celebration of friendship and magic. But some pony is out to spoil the celebration – and they're stealing cakes, letting bunnies loose, and even spoiling Pipp's paintings!
On your adventure you will meet up with other ponies from the My Little Pony universe and a very helpful butterfly. The ponies that you meet need your help with tasks and crime solving. Some of the tasks are as simple as finding items and using your magic powers to "uni"-cycle (fixing up or painting an object) or herding bunnies. The helpful butterfly will appear if you're ever lost or "off course" for too long and will lead you to the objective that you should be working on. This was very helpful and great to see as the game is geared for a younger audience who may need the extra guidance. I would love to see something like this added to more games as it was very well executed.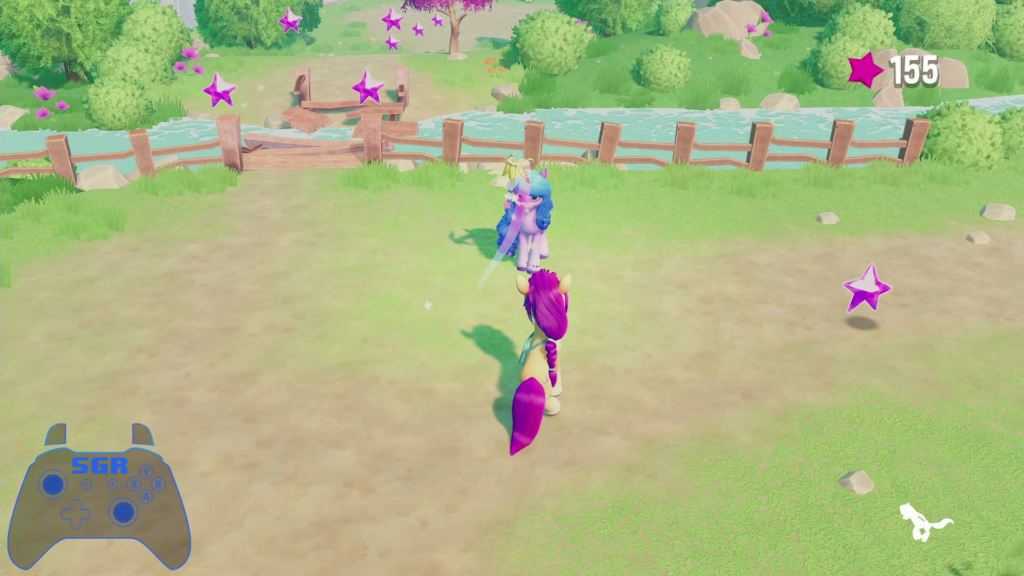 The story and gameplay are pretty linear but you do have the ability to revisit places that you've previously been should you want to return and explore them further. While playing you will come across 5 different mini-games to play that will give you a star rating after completing them (up to 3 crowns). There is a timed bunny herding game, a timed obstacle course, roller-blading chase, flight academy (which is a flying obstacle course), and a rhythm based dance game. The mini-games are pretty short, enjoyable, and replayable in case you want to get a higher score or just replay them for fun. After completing the mini-games you will be rewarded with Star Magic according to how many stars you earn.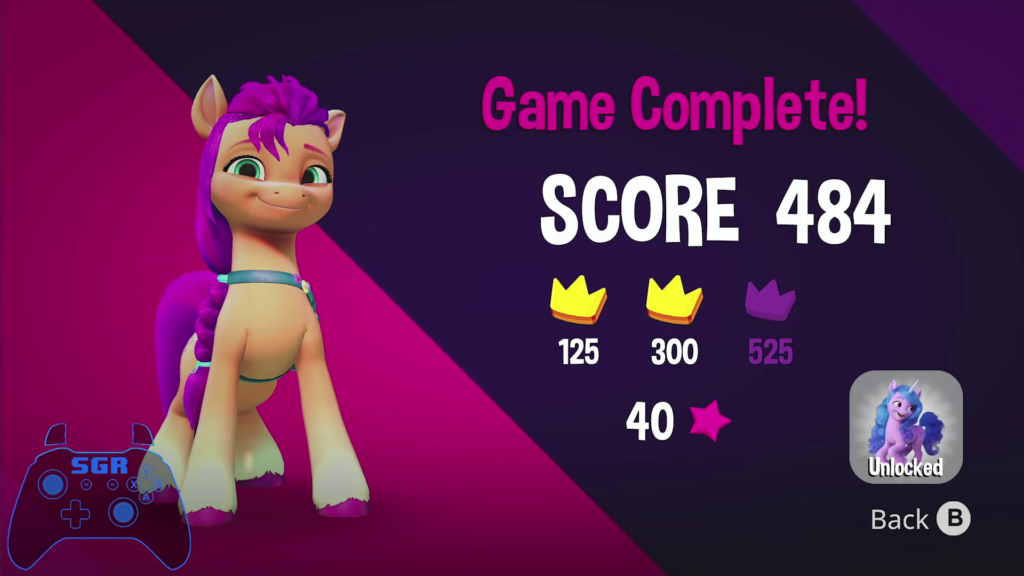 There are customization options that let you dress up Sunny with a variety of accessories when you visit the Magic Mirror. These are unlocked automatically as you collect the required amount of Star Magic. This is earned from completing mini-games and also collected on your travels (they are the pinkish-purple stars you'll see all over the place). The changes you make to Sunny's outfit are visible at all times, even in the mini-games and in cut scenes. We loved this attention to detail. It adds that little extra to your enjoyment of the game and makes the customizations feel more worth doing.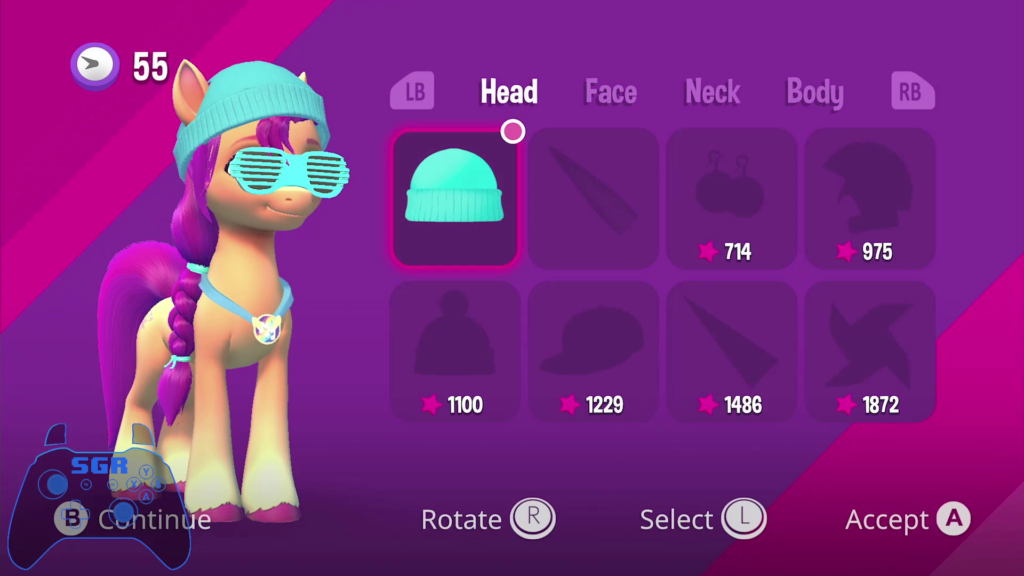 In the latter parts of the game new mechanics and new areas are introduced keeping the gameplay fun. You get roller skates which lets you move faster but they do take a little practice to get used to as Sunny slides around a bit. Luckily you do not have to use them and you can put them on or take them off with a push of a button. We used them most of the time but took them off for some of the area's that needed more control of our movement.
Overall it's a fun short adventure game for gamers of all ages and you don't need to be a fan of My Little Pony to enjoy it.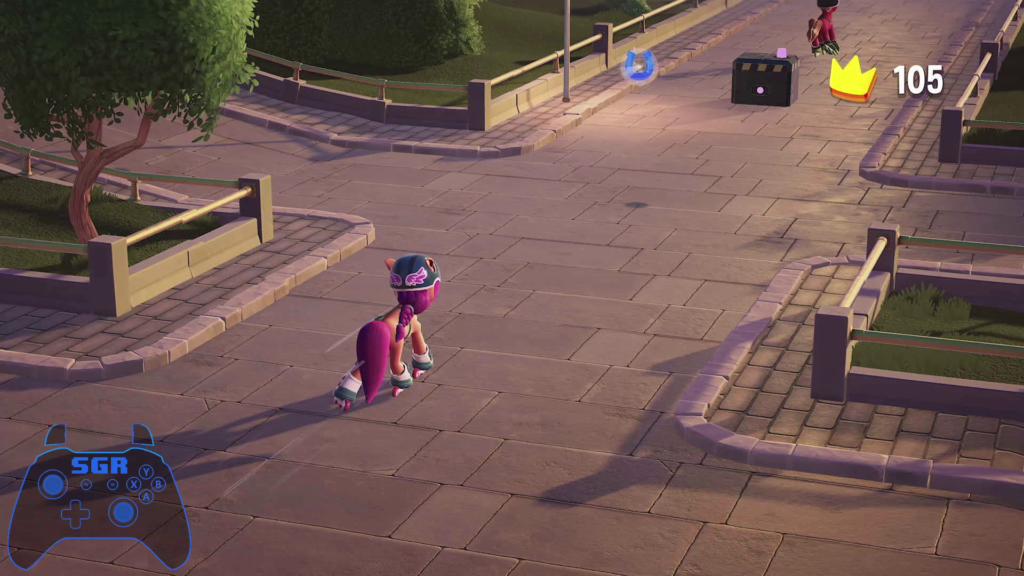 MY LITTLE PONY: A Maretime Bay Adventure is available on Xbox, Playstation, Nintendo Switch, and Steam. A digital copy of this game was provided to SimpleGameReviews for the purposes of reviewing the game.