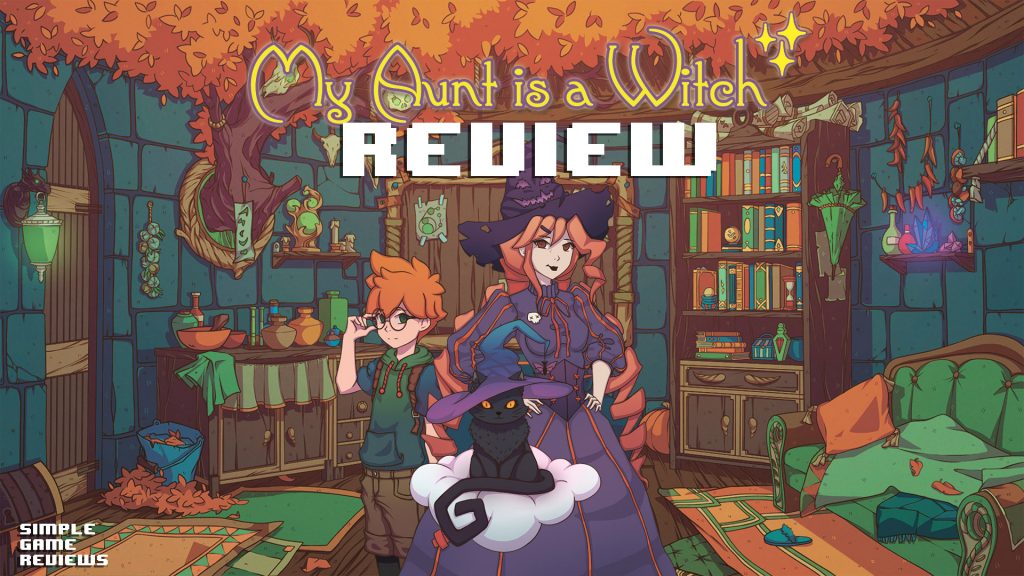 My Aunt is a Witch from Publisher Sometimes You and Developer Graven Visual Novels An interesting expansion on the typical visual novel genre. A little slow to start out but it picks up.
A Visual Novel with some Point and Click elements.
The story is told from the perspective of a boy named Thomas. He was sent to live with his Aunt by his dad and stepmom. Shortly after getting to his aunt's house, he discovers that she is a real witch who has a talking cat and a bunch of magical things laying around the house. Thomas takes on some of the household chores learning about magical items and making potions. This is where the story starts.
After spending some time in the house, Thomas starts to see and experience the magic and plans on becoming a master potion maker as well as an apprentice to his aunt. During his journey you will meet several interesting characters and have to complete quests and a few puzzles. You will also have a few locations that you will visit and get to explore.
After a while, the visual novel adds some point and click game elements allowing you to take control of Thomas and explore the house. You will be provided with check lists that Thomas will need to complete with items located all over the house. This house might not be the safest place for a child to be left alone to explore. There are interesting ways that Thomas can die while looking around the house. We recommend saving often as there is no auto save and if you die without a save you will need to start the story over. Since there is no way to skip the text, dying without having a save is a time consuming mistake. We would have liked to have some form of checkpoint auto-save feature in the game.
During the visual novel parts of the game they did a great job letting you easily know who is talking by having a nice easy to read graphic above the text box. Each of the characters have their own text colors with a cute little graphic on them making it easy to tell them apart.
The backgrounds and environments are well done with a colorful anime art style that works well, looks good, and fits the story. Some of the conversations will have a small amount of animation in the background. It has a relaxing original soundtrack with well done sound effects that help the immersion and keep you interested in the story during some of the longer conversations.
The story is pretty straightforward with a few interesting parts. There are some pacing issues in the first half with some of the conversations dragging on and needlessly describing in detail things that are pictured on screen. In the later half of the story several characters are introduced at a pretty fast rate. This is where the story starts to come alive and pick up speed.
When you enter the point and click part of the game and take control of Thomas the controls become very important. It wasn't always clear what button needed to be pressed so it took some time to get used to the controls. Holding a button on the controller will show you which items you are able to interact with. A glowing star displays over the items making it easy to see what you can and cannot interact with. There are times that the on screen user interface will be blocking an item you need to interact with and you will not be able to see it unless you hold the show active objects button.
There is an option that will pull up a book of all the previous text in case you missed something that was said. This is a helpful feature in a visual novel as it is easy to click the next text button a few to many times and miss something.
We really enjoyed the point and click parts of the game and would have liked to see more of this. There are some minor spelling and grammar issues that pop up in the story but they can be overlooked as it does not happen often.
My Aunt is a Witch is available on Xbox, Playstation, Nintendo Switch and PSVita. A digital copy of this game was provided to SimpleGameReviews for the purposes of reviewing the game.