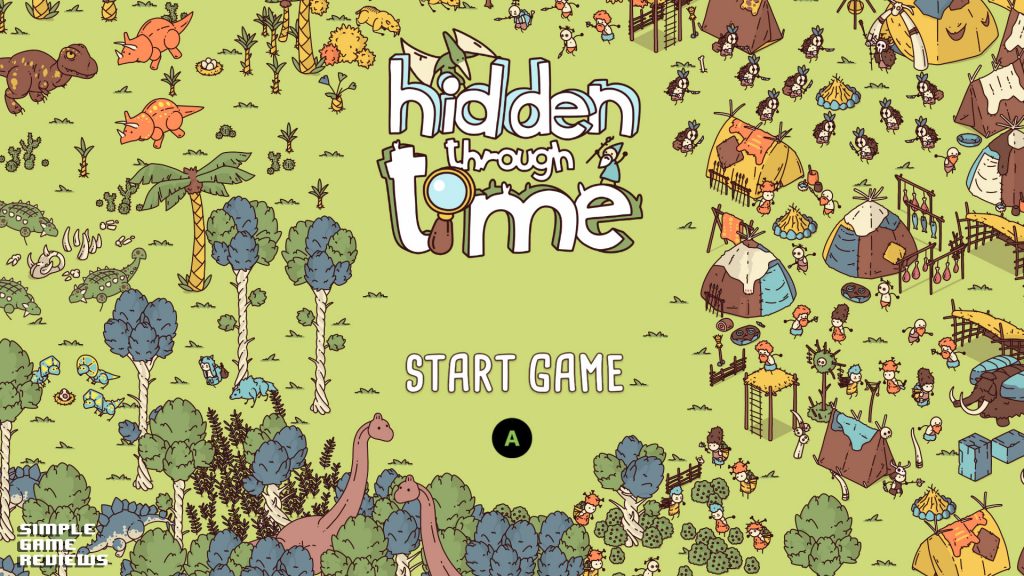 Hidden Through Time from Publisher and Developer Crazy Monkey Studios A modern animated Where's Waldo enjoyable for all ages. Wonderful relaxing music and animations that are both cute and entertaining. 

A point and click where's Waldo-esk animated hidden items game.

The game presents you with maps full of interactive objects and a list of items to find that are hidden on the screen. Each item on the list has a hint to help you locate it. Once you click the item it will put a temporary circle around it marking it as found and check it off of your list by changing the background color of the item from white to a nice bright green.

While playing the story mode you will travel through time from the Stone Age, to Ancient Egypt, through the Middle ages, and onto the American Old West. Each of the maps has its own look and feel and pretty much everything on the map interacts when you click on it. You'll start out looking for just a few items on a smallish map. As you progress from stage to stage it starts to get a little more challenging as they add more items, hide them a little better, and make the maps larger. Depending on how you handle the challenge or frustration of searching for small well hidden items on a large map, this will either be tons of fun or irritating.

The graphics are delightfully stick figure cartoonish. It fits the game nicely and really nails the nostalgic feel of the Where's Waldo books. They also have really gentle, relaxing, and peaceful music. We felt like we could happily spend hours exploring the maps and interacting with the different pieces presented while listening to the sound track and hunting down every last elusive little item.

There are a total of 26 maps in the story mode. They've also added a Map Editor mode where users can make their own maps and share them with everyone else. In this mode you have tons of options and can choose from everything in the game to populate your maps; structures, props, characters, animals, and the environmental elements (plants, trees, and rocks). Once you're happy with your map you can play it locally or upload it for others to play online.

That leads right to the Online mode which lets you play maps created by other users and give them feedback in the form of Thumbs Up or Down. Some of the user made maps are very easy with only a few items placed and others are more elaborate where you can tell the creator spent some time to make a really enjoyable map or tell a little story.

We was surprised by the amount of options you have for searching the online maps. You can search based on like percentage, most played, most cleared, clear percentage, most recent and oldest. You can also favorite maps to find them again quickly if you want to come back to them. 

The thing we loved the most about Where's Waldo wasn't finding Waldo. It was discovering all of the other little stories and activities that were happening on the page. This game captures that spirit perfectly. Every map had such interesting things happening and captured a little slice of the world with so many things to discover.

Hidden Through Time is available on Xbox One, PS4, Nintendo Switch, Steam, iOS and Android. A digital copy of this game was provided to SimpleGameReviews for the purposes of reviewing the game.