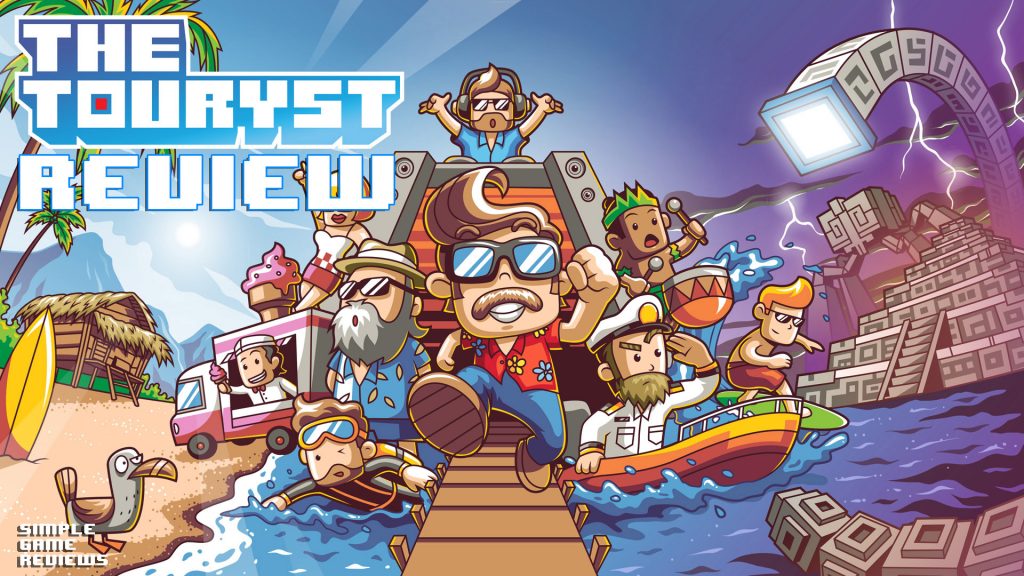 The Touryst from Publisher and Developer Shin'en Games A fun voxel art style, Island Vacation themed, puzzle game.
You play as a bespectacled mustachioed tourist on vacation. You will be visiting islands, relaxing, taking photos, scuba diving, and other things you would expect to do while on vacation. While on the islands you will discover and explore monuments and complete tasks (To-do lists) that people offer you.
You travel between islands with the assistance of the friendly boat captain who chauffeurs you around. As the game progresses you'll gain access to new islands. To gain access you have to first discover the islands from travel guides. Some of these are received from characters but most are purchased from a store.
Most of the islands will have a monument for you to explore. You have to solve a puzzle just to open the monument so you can enter. Once inside there are more obstacles leading to a boss fight to obtain the orb inside. Most of the obstacles are pretty straightforward, while others are a bit tricky and will require you to move the camera around to try to figure out the solution.
You are able to purchase new "upgrades" for your character at a store once they are unlocked by story progression. The introduction of the new upgrade abilities is paced well. They're also necessary to reach some areas that are otherwise inaccessible. Between those areas being temporarily inaccessible and To-Do's that will be picked up on later islands, you'll end up going back and forth to each of the islands several times.
There is a surprisingly large number of mini games as well as to-do lists. Most of the to-do's are not required for story progression. They are easy to understand and figure out what is needed, and have good mechanics. Many games suffer with poor mechanics in their mini games when they have a lot of them. For the most part The Touryst managed to maintain good mechanics in their minigames. The only exceptions to this were in the retro arcade games found on one of the islands. There's a To-Do list task related to beating the high score on all 3 of these. They can be a bit frustrating due to issues with the minigame mechanics/physics.
Each of the islands has its own look, feel, and theme. This makes it a lot easier to remember what is on which island when you have to go back to finish future To-Dos.
Overall, we enjoyed playing this game. The puzzles and little games were enjoyable. Other than a couple of issues with game mechanics in one or two places it plays really well and can be completed in 6-8 hours. You can complete the story missions in less time if you skip the side missions (To-Do lists).
The Touryst is available on Xbox One, Nintendo Switch, and Windows.