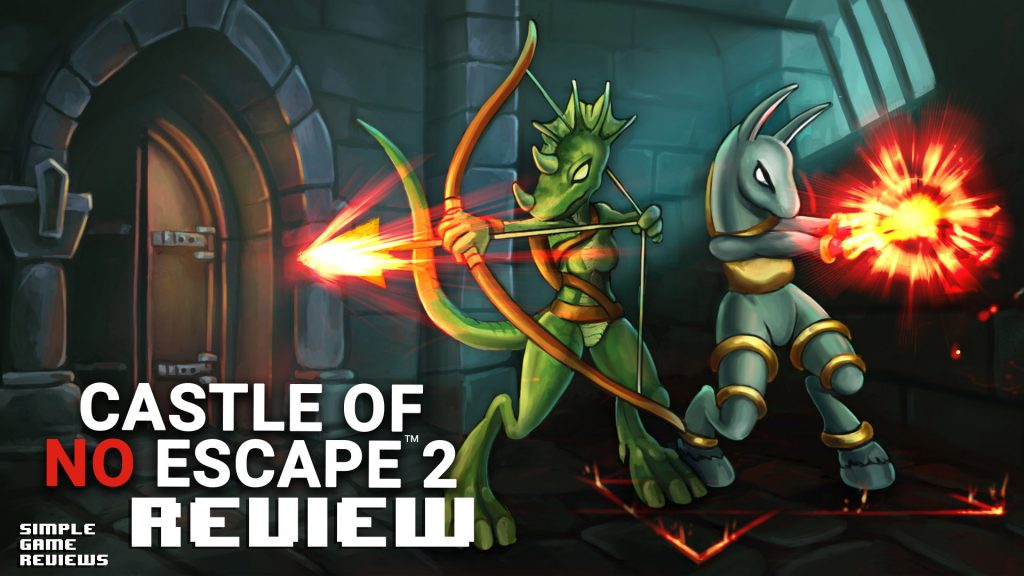 Castle of No Escape 2 from Publisher Xitilon and Developer D. E. X. Team A retro styled rouge-lite dungeon crawler and a solid improvement from the first game. A little short but enjoyable with a simple story.
This, like the previous game, is a Rogue-lite Dungeon Crawler with a 6×6 grid of rooms on each floor and 6 floors to explore.
Castle of No Escape 2 is more than just a sequel by number. It's got a lot of great additions and improvements from the first one. The graphics have been updated adding new character models, backgrounds, and enemies while keeping the pixel art style. The chip tunes soundtrack has also been updated with new songs that add to the haunted castle atmosphere.
A story has been added to the game along with an intro explaining what is happening and why you are going into the castle. The story is a little short but does a good job setting the mood for your adventure.
The rooms are now massive compared to the first game. You can and will have to move through the rooms fighting off enemies, opening chests, and avoiding traps. The look of the rooms reminded us of the dungeons from The Legend of Zelda on NES. The enemies are able to move and will chase you around trying to kill you. There are a handful of different enemy types each with their own attack patterns and some of them have powers. After a little bit you will be able to figure out the enemies' attacks and the best way to avoid them. Opening the chests comes with a bit of risk as enemies can hide in the chests and pop out when you open them.
There are several new additions to the game over its predecessor. You have 3 characters to pick from at the start with 3 more unlockable if you meet the secret requirements for them. Each of the characters has their own attributes like the first game but unlike the first game they play very differently as they have their own attacks. This was a great improvement to the game as it makes you want to try each of the characters to see which one will best fit your play style.
Some of the new mechanics in this game are fire pits that can damage you and ice on the floor that causes your character to slide around. They also expanded the in-game economy to include gambling. You can use your coins on a slot machine or play the shell game (like 3 card monty but with a ball under shells). There is still the same shopkeeper from the first game that you can purchase potions from and they added a second merchant who will sell them cheaper (if you can find him). You can also find a blacksmith to upgrade your armor.
It is still a rogue-lite game so dying will make you start over with nothing. The Castle is randomly generated which does make the exploration feel unique each time you enter.
They put in a lot of effort to capture that retro look and feel throughout the game. There is an old school password system that allows you to start with higher gear and some of the artifacts already collected. They also have a game manual that you can access from the options. The manual is great and for those who remember the old game manuals; it really captures that nostalgic feeling.
Castle of No Escape 2 is available on Xbox, Nintendo Switch and Steam. A digital copy of this game was provided to SimpleGameReviews for the purposes of reviewing the game.