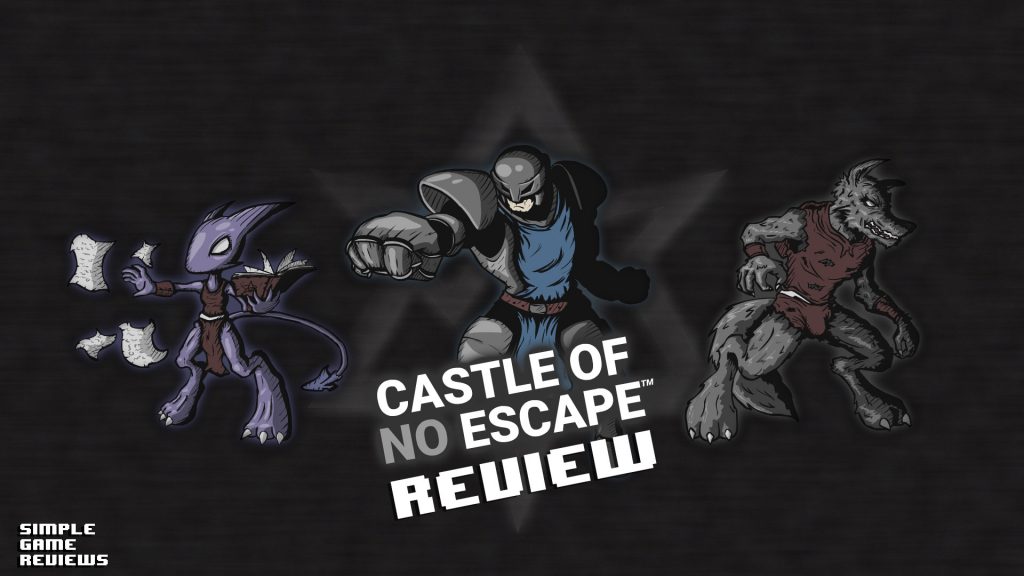 Castle of No Escape from Publisher Xitilon and Developer D. E. X. Team Minimalistic but fun retro styled rouge-lite dungeon crawler. Pretty standard fare but enjoyable nonetheless.
A Rogue-lite Dungeon Crawler
You start on the first floor of a mysterious castle. It has a top down view of a 6×6 grid. You move around the grid trying to find stairs to access the next floor. There are a total of 6 floors you can explore. All of the rooms on the floor are covered with questions marks making it a surprise for what could be hidden under it. You discover what is in them when your character moves over the room. While exploring you will come across monsters, books (some of which can curse you), chests, artifacts, and a shopkeeper. Each of the artifacts you collect will give you a buff that will help you explore the castle (warning: if you die, you will lose all of your buffs and have to start over from the beginning).
When you run into an enemy you have a few choices, you can fight the enemy using your weapons and magic, or flee. This adds a little bit of risk vs reward element since killing the enemy can reward you with coins but the risk of dying carries a steep penalty. Some of the enemies will attack you as soon as they see you. This can be a little frustrating in the beginning since running into a few enemies in a row can end your game fast.
Like most Rogue-lite games once you die you will start over at the beginning with everything in new random places and none of the upgrades you had previously acquired. The loading time between each of the games is very fast and after you die you will be back to playing in seconds.
There are 3 characters to choose from. Each has their own attributes. These are easy to read and understand by pressing the listed trigger or bumper button. There is a bonus 4th character that you can select by pressing the other unlisted trigger/bumper. However, since the 4th character is hidden you are unable to see their attributes before selecting it. Sadly all of the characters play the same way. They are just a skin and attribute change with identical attacks and spells.
You can purchase potions to refill your Strength, Intelligence, or Dexterity from the shopkeeper using the coins you find. We suggest using your coins on the strength potions as they will keep you alive longer.
They also introduce a light mechanic to reveal some of the rooms around you. This helps you avoid enemies or find valuables on the floor. The primary method for this mechanic comes in the form of flares. Keep in mind you have a limited amount of flares and can easily run out of them. Luckily, you can find replacement flares in some of the rooms. If you are really lucky you will find the lantern which does the same thing as the flares but without having to consume them.
Sadly there is little to no story in the game. You need to collect the elements before the Demon Nikolai finds them and destroys the world. It's a little reminiscent of Thanos' Infinity Gauntlet since the boss has a large gauntlet on and is trying to collect 5 stones.
Castle of No Escape is available on Xbox, Nintendo Switch, Steam and Windows. A digital copy of this game was provided to SimpleGameReviews for the purposes of reviewing the game.