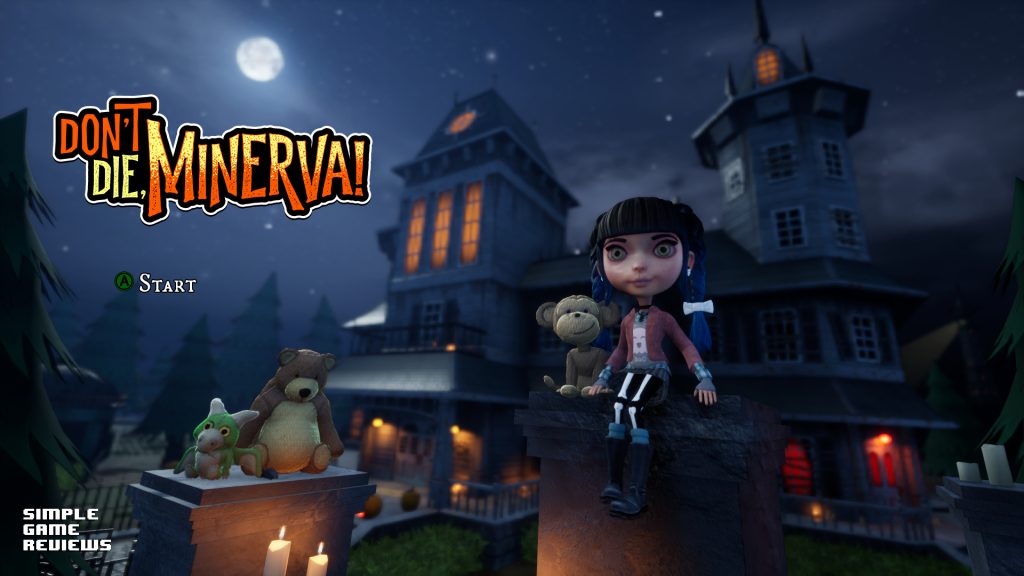 This review is based on a Preview copy of the game that was provided to us for the purpose of reviewing the game. The final version may have differences from what we experienced.
Don't Die, Minerva! From Xaviant
A Rogue-lite, twin stick shooter, with RPG elements.
You play as a little girl named Minerva along with her stuffed animal companion, who finds a group of haunted houses. You have to make your way through 3 different buildings, clearing the rooms by defeating evil ghosts, collecting gold, and stopping the Master who is the boss character on the top floor of each of the buildings.

The game has a Luigi's Mansion feel with the way you go into the rooms to clear out the enemies by using light. The primary difference is that here you aren't vacuuming up the enemies.

The gameplay is pretty simple and becomes a little repetitive as there is no story element included at the time of this writing. Once you complete the game you are able to replay it on a harder difficulty while keeping all of the upgrades you unlocked during your first playthrough (New Game+).

They made an unusual choice with the soundtrack. There is only music while the enemies are on screen after that it fades away and you are left with nothing but the sound effects of your character walking around. The musical selections seemed incongruous. Sometimes it was what one would expect it to be, a little eerie and combat appropriate, while other times it was upbeat and just felt weird.

One of the most fun mechanics is the stuffed animal companions. They were a lot of fun to use, had good variety in their area attacks, and were my weapon of choice simply because of how much I enjoyed using them. They do have a cooldown period but it's fairly quick to recharge, especially with the right upgrades.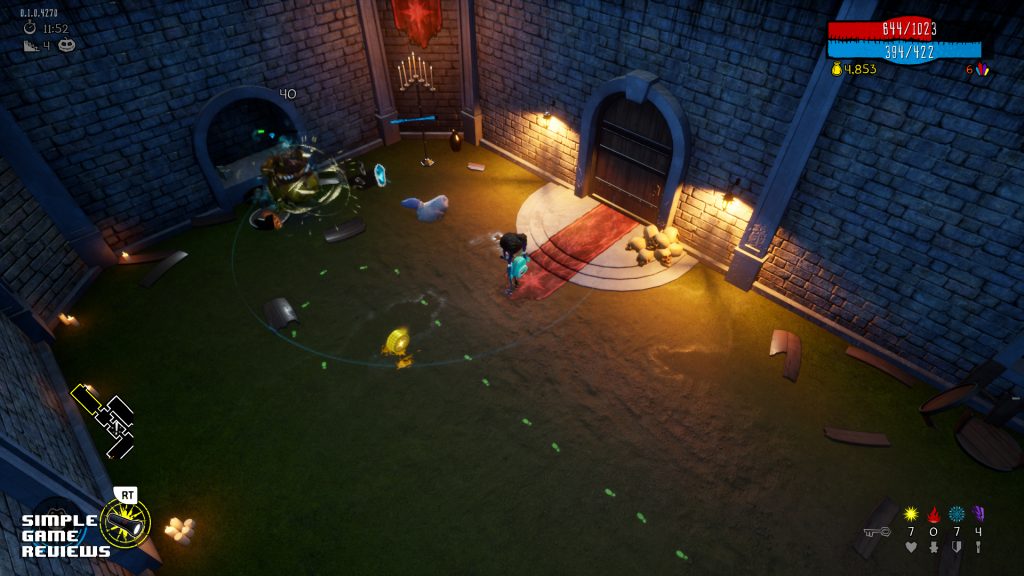 They've also combined stamina and mana together into one gauge so dodging/rolling and attacking with your stuffed animal of choice or flashlight will all deplete your blue energy bar. Fortunately your energy regenerates automatically. Your health, however, does not. But they do give enough health pickups as well as energy boosters throughout the levels to help keep you moving in the right direction.

You get loot drops from defeating enemies and looting chests or breakable items. You also have the option to purchase items from the store; more on that a little later. You can use these items to swap out your flashlight, equipment, and stuffed animal companion for more powerful versions. Each item has base abilities/powers and the option to add a stone to add an elemental damage attribute. They also have a rarity mechanic that keeps things interesting and almost scratches that "loot collecting" itch of always trying to find better and more powerful loot. If you do an excessive (some might say obsessive) degree of looting and upgrading you might feel a little overpowered at some stages but it's absolutely required in order to be successful against some of the more powerful enemies you encounter in later levels.

Each of the buildings has its own groups of enemies that you will kill over and over again. Every once in a while a new type or variant of the same enemy is added. Some of them can only be attacked a certain way as they are able to block damage. This adds a bit of variety and challenge to the combat and helps save it from what would otherwise feel rather stale and monotonous.

There also appears to be a limit on the amount of enemies that will spawn in the room at one time depending on the size of the room. This will be helpful during the harder difficulties or for younger players.

The whole map is procedurally generated. Each floor of the building is considered its own level. Each level has multiple rooms, a fountain, and an elevator that takes you directly to the next floor. You have one opportunity per level to return to the courtyard and buy items or upgrades. To do this, you'll toss a coin into the fountain and open a portal. You return via the same portal and from there your only option is finishing the level by finding the key and reaching the elevator. The procedural generation adds some variety to the game. Each room has a unique look and feel. This also adds some degree of replayability to the game since it won't be exactly the same every playthrough. Because of the limitations on returning to the courtyard to purchase upgraded items or skills, it's important to loot the levels so you don't end up underpowered.

The courtyard is where you can interact with the friendly ghosts associated with each tower you've unlocked. The ghosts have unique skills you can unlock by purchasing them from the ghosts using the "essence" you've collected. There is also a shop area in the courtyard where you can spend your coins on new equipment and stones. There is a good balance between the cost of items and the amount of coin you're likely to have after completing the levels.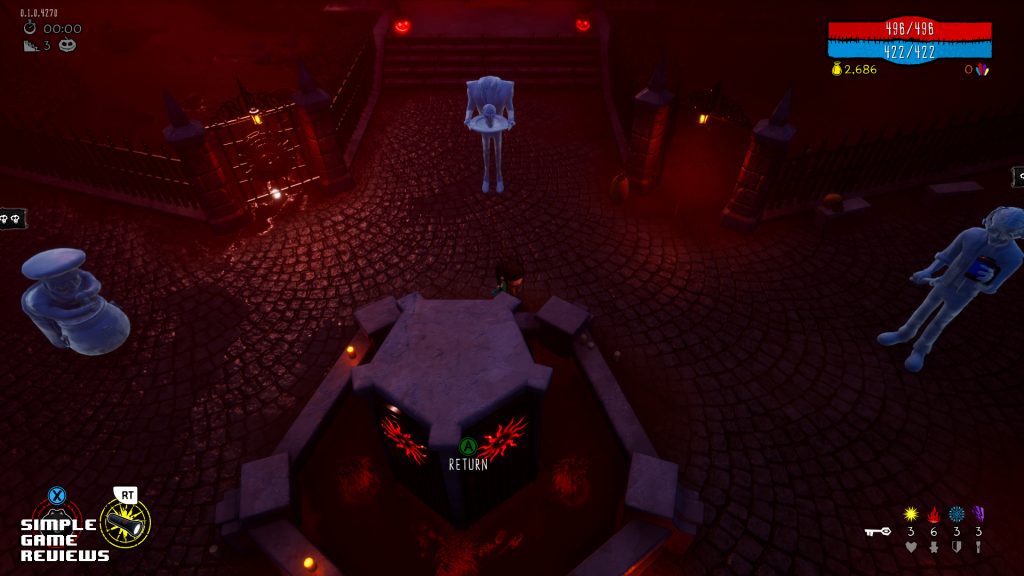 We have run into a few issues with the controls not responding for a few seconds here or there, clipping into fountains and getting stuck, and some audio issues. We know the game is currently in Game Preview and is not completed at this time so hopefully some of those issues will be resolved in the final version.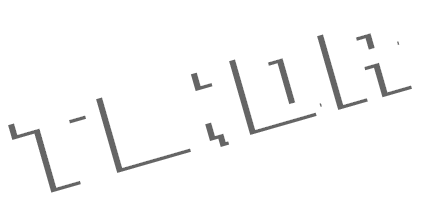 A simple and fun twin stick shooter. Sometimes feels like the game isn't sure what genre it wants to be.
Don't Die, Minerva! will be available on Xbox One and Windows. A digital copy of this game was provided to SimpleGameReviews for the purposes of reviewing the game.