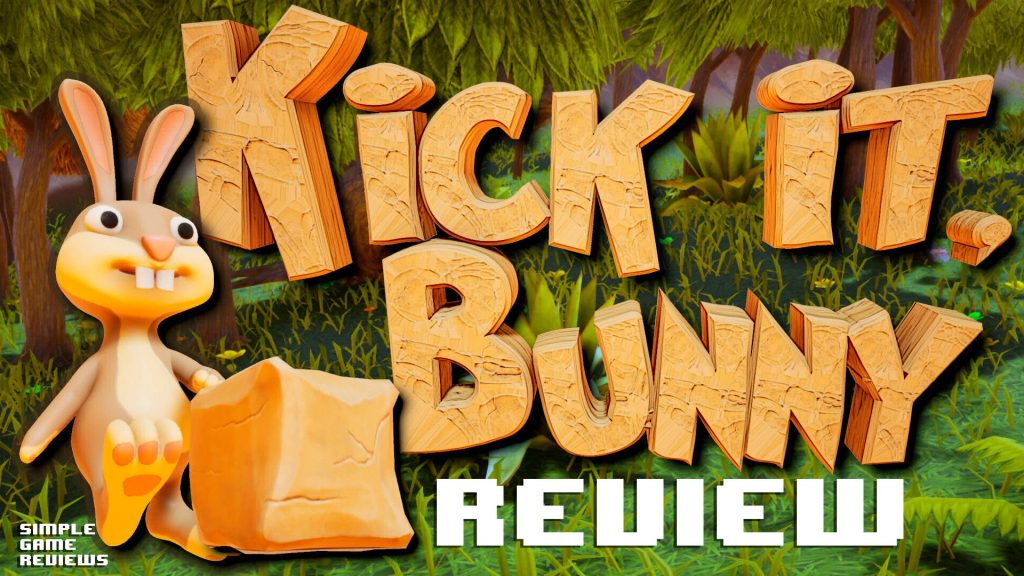 Kick it, Bunny from Publisher and Developer DillyFrameGames More bunny kicking things around and trying to solve block puzzles. Bunny redesign potentially the stuff of nightmares.
This is the next game in the Kicking Bunny Series of games from DillyFrame. They've made a change to the character design of the titular bunny and this time around you will be kicking around tetris-esqu puzzle pieces to rotate and place them on a puzzle board in the specified shape.
All of the puzzles are stone figures that have been destroyed. Your job is to rebuild the 50 figures by kicking the pieces back together and rotating them into the correct shape. Most of the puzzles/figures are animal themed. You will have to travel all over the large open world as the puzzles are scattered all over the map. As you complete each puzzle a large green check mark will be placed on it when you view the map. This is very helpful for knowing which ones are still left to be completed. While traveling around you can take a break from the puzzles to play a game of soccer or sit in a chair and relax for a bit.
There are several other animals in the world that you can interact with. Some of the animals are friendly while others are not. The not-so-friendly animals can be a bit of a pain as they will come after you and kick you randomly. When you are kicked you are pushed back and stunned making you unable to move for a few seconds. This can be annoying when you are trying to complete a puzzle and get attacked by an alligator, or a hippo comes and kicks a puzzle piece out of its way.
For some reason they've redesigned the main character. The bunny has less comical proportions now and is a more "natural" color. But its face is a bit scary like something from a childhood nightmare. Fortunately, when you're playing the actual game you don't see your character's face much since you're primarily behind him looking at where you're kicking the puzzle pieces.
Some of the puzzles can be completed in about 5-10 minutes depending on the player. While others can take upwards of 10-15 minutes, again depending on the player. Luckily there is the option to "restart level" which comes in handy if you overthink the puzzle and just want to reset it.
The kicking mechanic can be a little tedious at times at it doesn't always do what you want it to or expect it to. For puzzles like this, we would prefer a top down view and directly selecting and manipulating the puzzle pieces instead of navigating a character around them and kicking them around.
Overall the game is enjoyable for what it is as the puzzles can be challenging but still accessible for gamers of all ages.
Kick It, Bunny is available on Xbox and Steam. A digital copy of this game was provided to SimpleGameReviews for the purposes of reviewing the game.