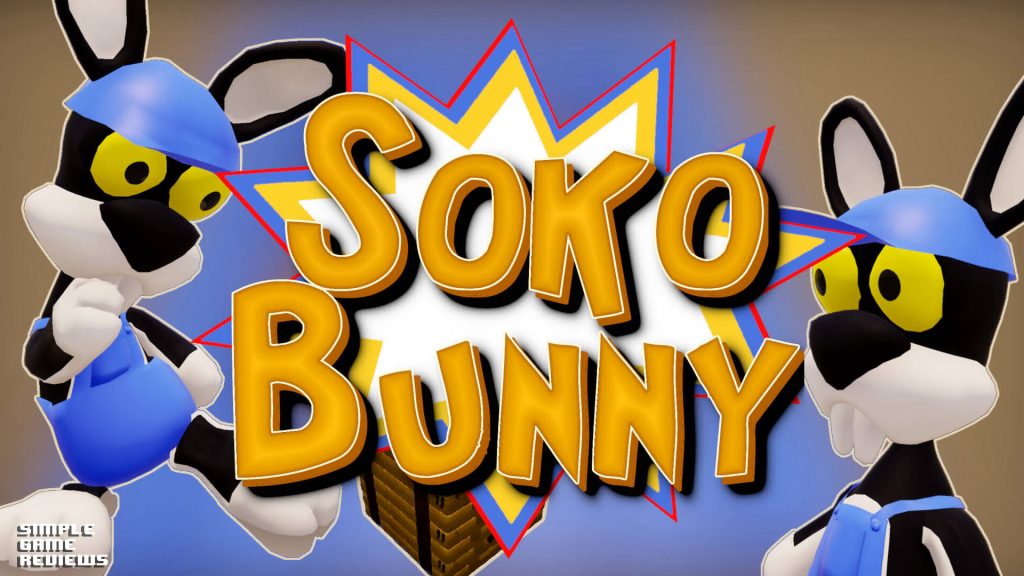 SokoBunny from Publisher and Developer DillyFrame Cute cartoony puzzle game that offers multiple difficulty levels to fit players' skill. Very similar to the previous Bunny title with some improvements.
A Soko Puzzle Game
This is a slide puzzle type game similar to its predecessor Bunny Parking. Your character is a big eared, big footed, brightly colored bunny and your job is kicking stacks of boxes around to fill the part of the floor covered in pallets.

You'll know the stack of boxes is on a pallet when it lights up, turns slightly transparent, and sports a large green check mark hovering over top of it. The boxes will have the same reaction no matter which box is on which pallet so it doesn't necessarily mean that you've got it in the correct location to solve the puzzle/level.

The graphics and controls look and function the same way they did in Bunny Parking which we previously reviewed here. You are able to customize your Bunny by kicking paint cans to change the color of your Bunny,overalls, and hat.

One improvement over the previous game is the addition of an undo button. This lets you undo your last box move. It comes in handy when you make a mistake or when playing the very large Maxi levels. Word of caution: If you're standing too close to the box when you hit undo, it can hit you and knock you right out of the puzzle area.

There is a helpful training mode in the game with the option to turn on hints which is a good place to start. Sadly the hint option is only available in the training area of the game.

The game has 3 different difficulty levels; Mini, Midi and Maxi. The differences between these levels is the size of the puzzles and how many stack of boxes you need to move. You can start at any difficulty level you want to, but you always have to complete the puzzles in numerical order within the difficulty selected. As you progress within the levels, the puzzles will gradually get larger and more complex with more boxes and pallets.

The Mini puzzles are the smallest. Most of these can be completed within a few minutes and about 20-30 moves. Midi puzzles are mid-sized. You'll start to notice that you have less room to move around which limits your available moves. Maxi puzzles are the largest and most difficult. Some of these can take quite a while and hundreds of moves to successfully complete.

Jumping straight from Level 1 on Mini, to Level 1 Midi, or Maxi is a very steep difficulty ramp. Playing through all 50 levels of Mini first makes for a smoother transition before starting Midi.

We encountered an issue with some NPC Bunnies getting into the puzzle's area and hiding behind boxes. If you kick them or kick a box into them they will retaliate by kicking you back. They are able to kick you out of the enclosed puzzle area. Fortunately, there is an SOS button in the menu that will return you to the garage so you can re-enter the puzzle area. Unfortunately, this is never demonstrated or explained anywhere in the game. We figured it out by mistake. This would have been a very good thing to include in Training mode.

Much like its predecessor, Bunny Parking, if you want a break from the puzzles there are some activities available on the map. You play on the playground equipment, bounce on some trampolines, ride the teacups, or play a game of soccer. It also has the same Buffs available for purchase that they had previously. However, instead of buying them with golden carrots picked up from the carrot patch, you now have to earn currency from kicking boxes while solving puzzles in order to purchase the buffs. Most of the buffs are pretty cheap. The only more expensive ones are the ones that change you from a boy bunny to a girl bunny, or a chicken. All of the buffs wear off after a little while.

While the puzzles were somewhat enjoyable and the improvements over the last game much appreciated, we can't shake the feeling that they were really just reusing every possible asset both game mechanic-wise and visual.

SokoBunny is available on Xbox One and Windows. A digital copy of this game was provided to SimpleGameReviews for the purposes of reviewing the game.