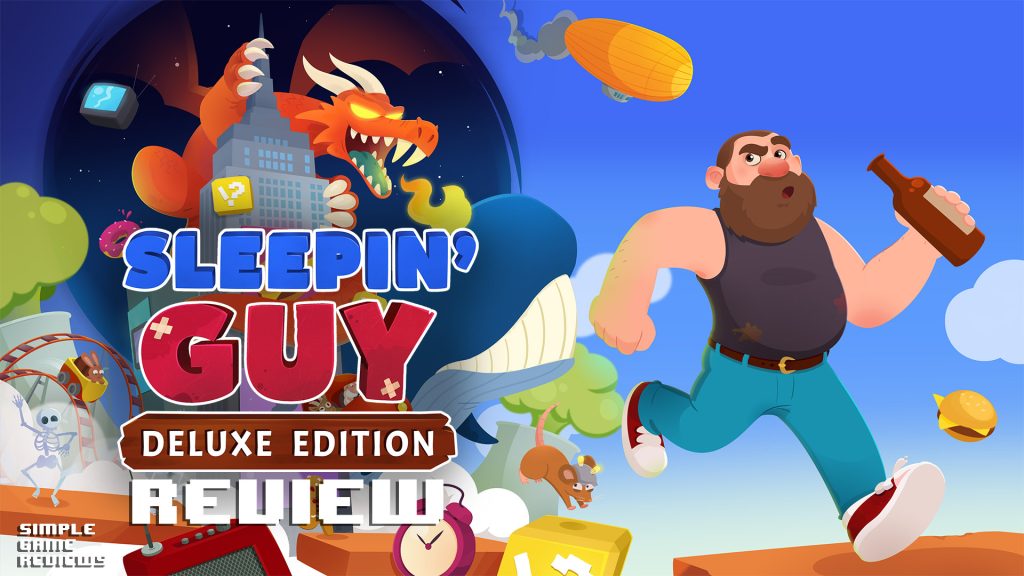 Sleepin' Guy Deluxe Edition from Publisher Chubby Pixel and Developer Fabio Ferrara Fun but occasionally frustrating first person platformer where you win by killing yourself.
Sleepin' Guy Deluxe Edition is a first person action-puzzler platformer. You play as Sleepin' Guy, who falls asleep, drops his beer, and needs to wake up before it hits the ground. 
Waking up should be easy right? The trick is that the only way to wake up is to DIIIIE! Each of the 31 levels will have you trying to find different ways to kill yourself so you can wake up. Some of the levels have references to pop culture, classic movies, and games including Jurassic Park, Portal, and Super Mario Brothers. All of the levels have a little twist to fit the game's atmosphere and art style. The levels are physics based which can be kind of a pain since the game is a first person platformer.
There is a collectible statue located somewhere on each of the main levels. Most of these can be found with a minimum of exploration. The statues are of Sleepin' Guy in a variety of different poses, some a little more comedic than others. The game makes it easy to see which levels you have found or are missing the statue for, by placing all of the found statues on a plate on the table.
The main "hub" is a diner that you work at. The levels are located on top of the tables with a little numbered placard on them. We thought this was a perfect fit for the diner theme they were going with. Level select is available in case you need to go back and replay a level to obtain a missed collectible. However, the levels must first be completed before they can be selected and they must be played in order.
While some of the levels are pretty straight forward and can be completed in just a few minutes, others took us a while to figure out what needed to be done in order to gain access to the next part of the level so we could die. 
The game's tutorial leaves a little to be desired. It does cover the basic controls at the beginning but later when new level specific mechanics are introduced we were left hanging trying to figure out what to do or how to use them. This could make it a little more challenging than expected for people who are not already familiar with the mechanic from the game or movie being referenced on that level.  
Overall it was an enjoyable but occasionally frustrating game. We enjoyed the pop culture/gaming references but found the first person platforming to occasionally be difficult and frustrating. 
Sleepin' Guy Deluxe Edition is available on Xbox One and Xbox Series Consoles. A digital copy of this game was provided to SimpleGameReviews for the purposes of reviewing the game.