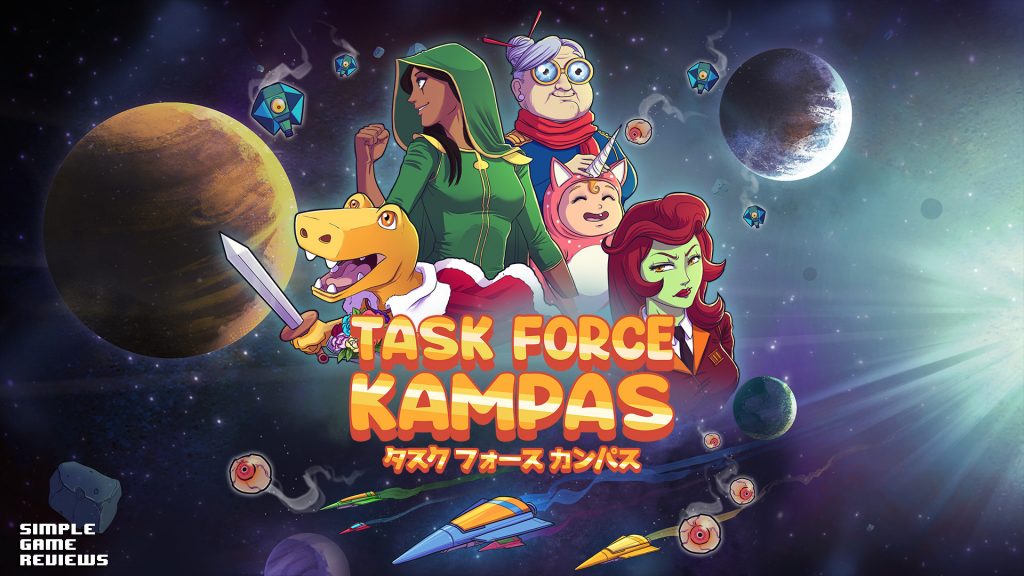 Task Force Kampas from Publisher Eastasiasoft and Developer Casiopea Wave Fairly short and straightforward SHMUP with good boss battles. A few missed opportunities that could've enhanced game play but still enjoyable for what it is.
A vertical shoot em up
Task Force Kampus is a vertical shmup. There are 5 different pilots or characters to choose from, each with their own bonuses. 2 of the 5 pilots are unlockable characters. You'll need to complete the game for one of them and get enough coco collectibles (more about these later) to unlock the other one. The pilots all have their own individual and interesting looks but you only see the pilot when selecting it at the beginning and they all fly the same ship just in different colors. While the different options for pilots and their bonuses are great it seems like they missed an opportunity to add additional layers and options to the game by not allowing you to choose your ship or giving the ships any stat differences themselves.

The screen has been split into 3 equal parts with the gameplay in the middle part and the sides left completely blank. Both Task Force Kampas and Red Death (previously reviewed HERE) are from the same Publisher Eastasiasoft. Both games seem to waste a lot of screen real estate but this may be a side effect of the need to limit the width of the play area in a shmup.

The game has an interesting mechanic that gives you hp regeneration for your ship if you can hold off on firing or taking damage for a set amount of time. It appears that hp regen delay is different for each of the pilots. This stat would be nice to know when choosing your pilot.

There are 3 bosses you will fight while working your way through the game. The boss battles are enjoyable and they appear to each have their own theme songs that play while fighting them (some of the songs are better than others). Each of the bosses has a movement and attack pattern that can be figured out pretty easily. Once you catch onto the pattern you can see where to position yourself on screen to avoid taking damage so you can hang out there and heal up. If you're able to figure out the pattern the game is pretty short and can be completed in about 10 minutes depending on player skill.

Meteors and enemies have a chance to drop the in-game collectible, Coco, when destroyed. A coco is a golden dinosaur. These collectibles add to your score and if you collect enough of them you will be rewarded with a flying coco wearing a helmet that is tethered to your ship who will attack enemies. These are also what you need to collect enough of to unlock one of the pilots as a playable selection.

There is a High Score leaderboard present in the game and it does have stats showing how many wins, deaths, and most cocos collected. Another missed opportunity here, the leaderboard is local only and only shows the top 3. We are glad they included a leaderboard so we can see our stats but would have loved to see it as an online leaderboard to be able to compare scores with friends and globally.

Task Force Kampas is available on Xbox One, PS4, PS Vita and Nintendo Switch. A digital copy of this game was provided to SimpleGameReviews for the purposes of reviewing the game.