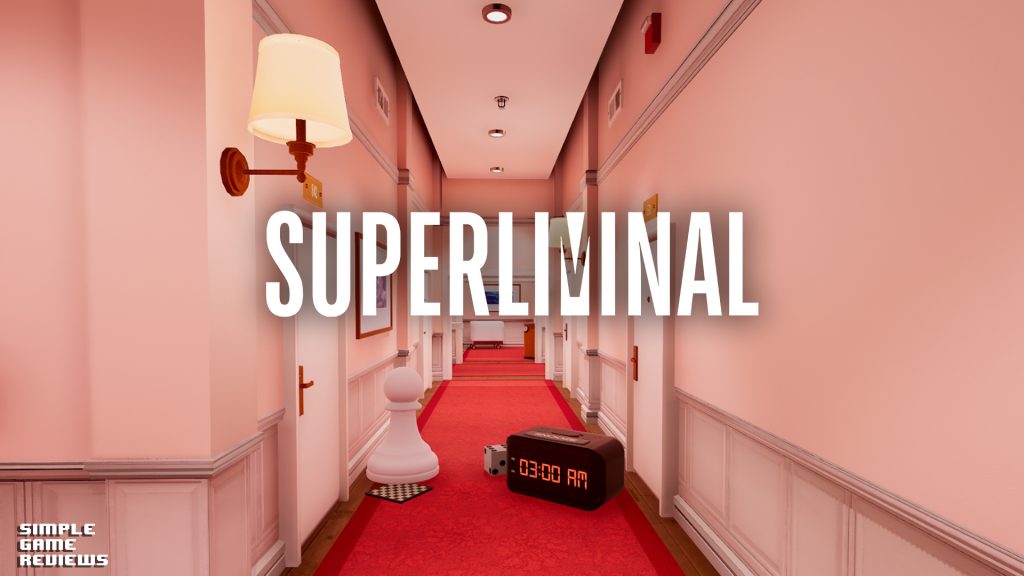 Superliminal from Publisher and Developer Pillow Castle Games Overall an enjoyable 3D puzzle experience. Fun narration and mechanics. Reminiscent of portal but definitely a different take on the 3D puzzle genre.
A puzzle game that uses perception to find the solution.
Superliminal is a first person puzzler. You'll be interacting with and manipulating objects using perspective to solve puzzles, overcome obstacles, and work your way through the stages to get to the exit. The game has a few similarities to the first portal game and likely drew some inspiration from there.
The game does a good job teaching you the basics and giving you ideas of what is possible to do during the introductory stages. The key mechanic centers around relative perspective with objects. There are a lot of optical illusions throughout the stages. Some of these are related to how to solve the puzzles and some are just there to add to the perception bending experience. This mechanic is used very well and can be fun to play around with seeing what you can interact with and how changing the perception or viewing angle alters reality.
There are a number of hidden collectibles across the 9 levels. Fortunately, the level select menu tells you which types you're missing some of. Unfortunately, it doesn't tell you how many of each are on each level or how many you're still missing. Finding all of the collectibles and secret areas are the only thing that really provides much in the way of replayability since the puzzles and solutions are always the same.
The game has a really great lofi soundtrack which helps keep you relaxed when you get stuck on the more complicated puzzles. They've also done a great job with the sound effects produced by the different items. Smaller versions of items make quieter higher pitched sounds while larger versions of items make louder lower pitched sounds.
Most of the puzzles can be figured out within a few minutes depending on player skill though executing the solution can be a little tougher at times. There are a few puzzles that ramp up the challenge/difficulty and can take a long time to figure out the solution. There are also secret areas and what seem to be red herrings to distract you from the finish line.
We did run into a few small issues with items glitching or clipping through other objects. We also saw some of these items disappear and then respawn in their original locations. The perspective in the hallways and some of the rooms can also feel a little trippy. One of our reviewers found that their eyes tired quickly playing the game and they needed to take breaks to rest their eyes.
Superliminal is available on Xbox One, PS4, Nintendo Switch and Steam. A digital copy of this game was provided to SimpleGameReviews for the purposes of reviewing the game.