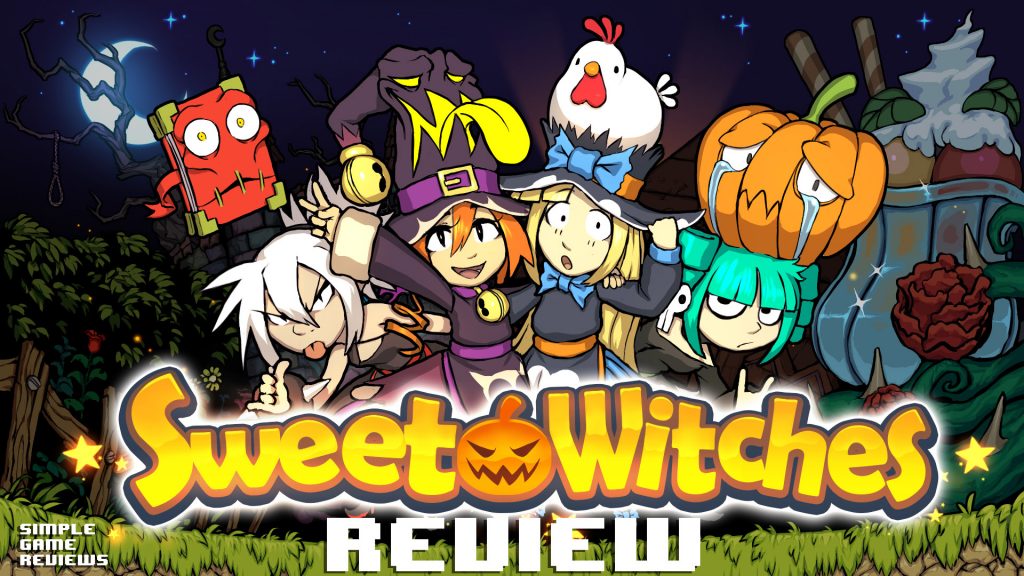 Sweet Witches from Publisher Drageus Games and Developer LumenSection A challenging platformer that is a little repetitive with a cutesy cartoony art style
You play as a witch. Your objective is to plant flowers on all of the designated plots while avoiding enemies. To plant the flowers you'll need to walk or run over the plots scattered all over the levels. There are enemies that will get in your way and try to stop you from completing your task. Bunnies are the only enemy that will eat the flowers you plant making you replant the flowers. You will need to climb ladders to get to the different platforms and reach all of the plots. The enemies can climb the ladders too and as you progress through the game you'll encounter some enemies that can move between the platforms without using a ladder. 
But, never fear, you can fight back! Some of the enemies you will be able to defeat with your magic hat, but others can only be defeated by using an item. On these bigger baddies your hat will only stun them. These items come from magic boxes that look like presents. You can only open one present at a time so you'll have to use that item before you can pick up another one. Eventually, enemies won't be the only danger you have to contend with in your quest to beautify the world with flower gardens. They also introduce environmental hazards that must be dodged while still dealing with the other enemies.
There are 50+ levels and 5 unique world's to make your way through. There is also a bonus level at the end of each of the worlds that gives you a chance to regain some lost lives/hearts.
There are 3 game modes in the Campaign; Arcade, Adventure and Custom. Arcade mode is the hardest by far. You start with only 5 lives and no continues. Adventure is the recommended mode for new players since it lets you continue when you lose all of your lives. Custom lets you change the speed of the enemies, add more starting lives, and turn on or off Friendly Fire. When starting the campaign you are able to pick one of two different good witches. Each has unique hat attacks and special spells. 
After completing the campaign you are able to replay it with your choice of two bad witches. It's not just a simple skin change, they have their own attacks and spells and instead of planting flowers, you're pulling them out. Some of the enemies will be different (most notably, the bunnies that eat flowers are replaced by baby chickens that plant them) while others stay the same.
On some of the levels it can be difficult to see where you need to plant the flowers as the block representing the plot looks similar to the platforms (the platforms themselves often have multiple different kinds of blocks for decoration). This can result in having to search for the missing plot to plant the last flower. The second version of the campaign is a lot easier in this respect since the flowers are much more obvious than a simple change in block color. We found a more methodical approach to completing the levels was helpful for avoiding a lot of repeat and searching. Killing all of the bunnies or chicks straight away is also a must.
The challenge increases the further you progress with the addition of new enemies that move faster, have ranged attacks, or can change platforms without using a ladder. They also add some new level mechanics like mud slides that slow you down, ice blocks that speed you up and can cause you to slide right into enemies, and darkness that lowers visibility and field of view. 
The only co-op option available at the time of this review is couch co-op. We would have loved an online option for both co-op and versus mode. In Versus Mode you can play against each other with up to 4 players. Unfortunately, since this game is couch co-op only, this mode won't be available unless you actually have a 2nd player. There are two game types in Versus mode (Timed and Deathmatch). There are a few options to turn on or off the enemies.  
It's worth noting that there is a game breaking glitch that also happens to be tied to an achievement. If you try to use your special magic spell and attack the Momma/Queen cat that is spawning kittens your game will freeze and crash causing you to lose your progress and have to start the world over again.
Overall the game is fun and they did a good job with the pacing of new enemies and mechanics to steadily increase the difficulty but some may still find it repetitive as you are still doing the same thing over and over again.
Sweet Witches is available on Xbox One, PS4, Nintendo Switch, and Steam. A digital copy of this game was provided to SimpleGameReviews for the purposes of reviewing the game.