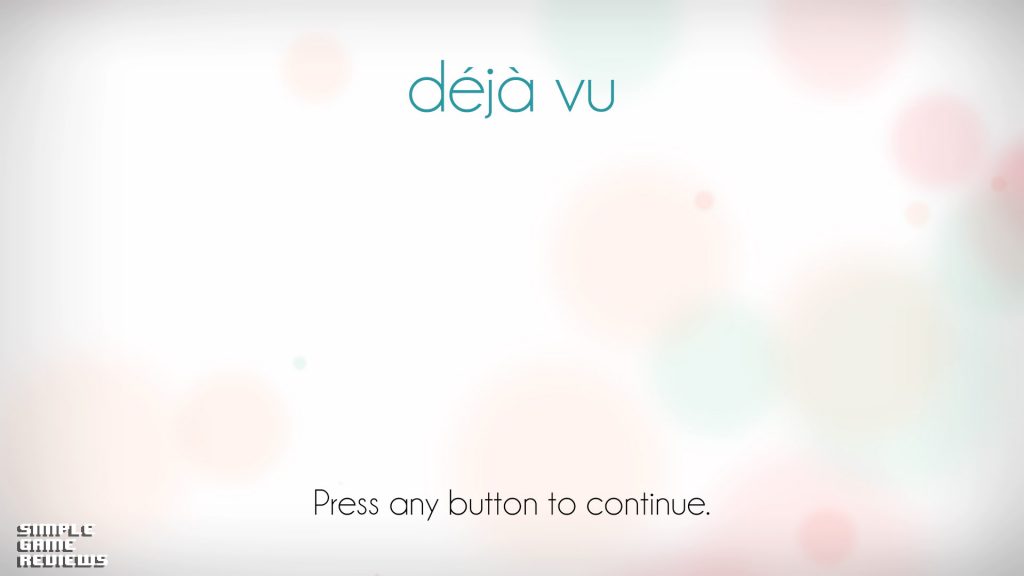 Déjà Vu from Publisher and Developer Eric Freeman A short enjoyable puzzle game with a couple of cool mechanics and a very bright background.
A minimalist puzzle game
You need to move your square to the yellow square somewhere on the screen. Its start is pretty simple and can be completed without thinking. After a few levels they start to add new game mechanics and the difficulty starts to ramp up.
Eventually you are introduced to the clone mechanic. Presumably this is the mechanic that inspired the title. It allows you to record your movements and clone your square. After making your clone it will play your recorded movements. This was a big surprise when we figured out that if you keep moving in one direction and clone yourself the recording will keep moving in that direction. This was one of the coolest mechanics introduced in the game. Overall, the controls and game mechanics are simple and work nicely as intended.
There is a narrative thread in the game. It is told through text on screen after completing every few levels. We didn't feel this "story" element really added to the game in any appreciable way.
The game has a very relaxing soundtrack which helps soothe the frustration when getting stuck on a level. Some of the later levels you will probably end up restarting over and over trying to figure out the solution. Luckily, you can reset the level with the press of a button and get back to trying a different method within a second or two.
There is the option to enable a Colorblind mode. We love to see developers putting in the effort to make their games more accessible for all gamers. The one thing we do wish is that there was an option to lower the brightness of the background or play the game in "dark mode" as most of the screen is white which can be painful for those with photosensitivity.
As for replayability options, they added a "Best Time" under each level which gives you the option to replay each level trying to beat your best time. We would have loved to see an online leaderboard to compare your times against friends and strangers. There is also a Player Statistics area that you can see at the end of the level selection area which shows your Total Time and Total Deaths. The total time does not calculate the total amount of time played it just adds the total best time for each of the levels. The game is fairly short and can be completed within an hour depending on player skill.
Déjà Vu is available on Xbox One and Windows. A digital copy of this game was provided to SimpleGameReviews for the purposes of reviewing the game.