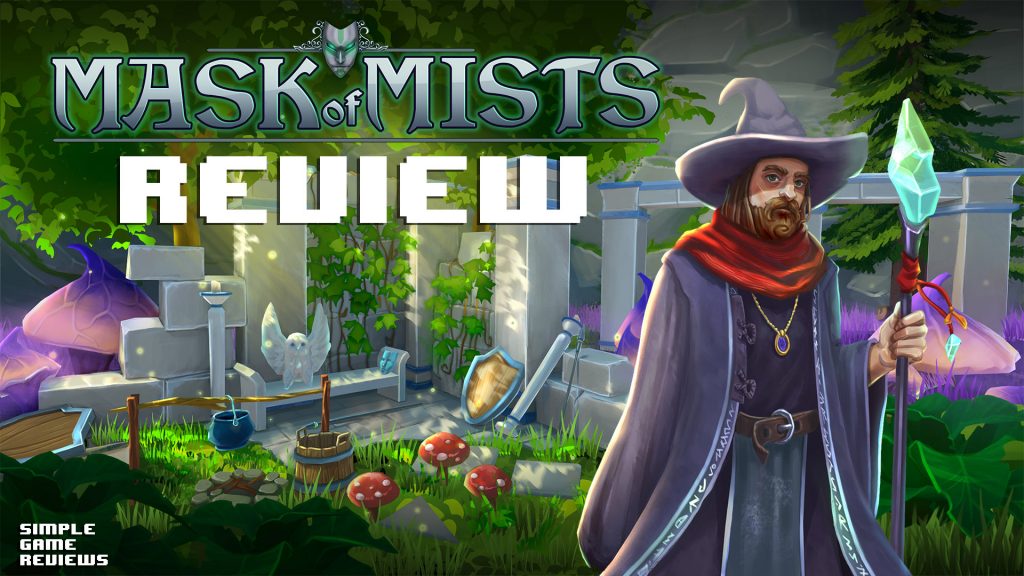 Mask of Mists from Publishers Sometimes You, Stately Snail and Developer 9 Eyes Game Studio Minimal combat challenges, some relatively easy puzzles, not a lot of story. Enjoyable but short game.
First-person Adventure Puzzler
You are a mercenary who has been sent to locate a missing person, the Archmage. This is where the story starts and stays until the end of the game. There is very little story development in the middle of the game. The majority of it is revealed by finding and reading things found through exploration. You will need to find clues, collect items, loot chests, find stone masks, solve puzzles, and explore the colorful magical world all in search of the Archmage. 
The combat is pretty simple and can be rather repetitive. You only have a single sword and pistol for your melee and ranged attacks. There are only 3 different types of enemies in the game and a single boss fight. With so little variety in your enemies it is easy to figure out how to avoid their attacks. Given that the game is set in such a magical world we would have loved to see the option to use magic in one way or another.  
There is a crafting mechanic for potions. Before you can craft the potions you will need to locate recipes and the ingredients for them. Some of these are hidden in chests while others are out on a table waiting to be picked up. They did a good job making sure you never felt like you needed to hunt down the items. You could just pick them up while on your way to the next location and there were extra in case you missed a few.
The artstyle is a pleasant Disney-esque fantasy cartoon-scape. They did a great job capturing the look and feel of the indoor, outdoor, and underground areas with changes in lighting and color. 
One of the nice touches they added was the Navigation Crystal mechanic. These allow you to leave a ruin after reaching the end of it without having to make your way all the way back through the level. Activating these is also a requirement for moving the story forward and unlocking the final area.
Most of the puzzles are easy to solve. They can often be solved with minimal trial and error. However, the game also provides an answer key nearby, sometimes in the next room. There are a few puzzles that require platforming. These can be a little difficult due to the inherent challenges of platforming from a first person perspective.  
All in all, the game can be completed in just a few hours and was an enjoyable way to spend an afternoon.
Mask of Mists is available on Xbox One, PS4, Nintendo Switch and Steam. A digital copy of this game was provided to SimpleGameReviews for the purposes of reviewing the game.