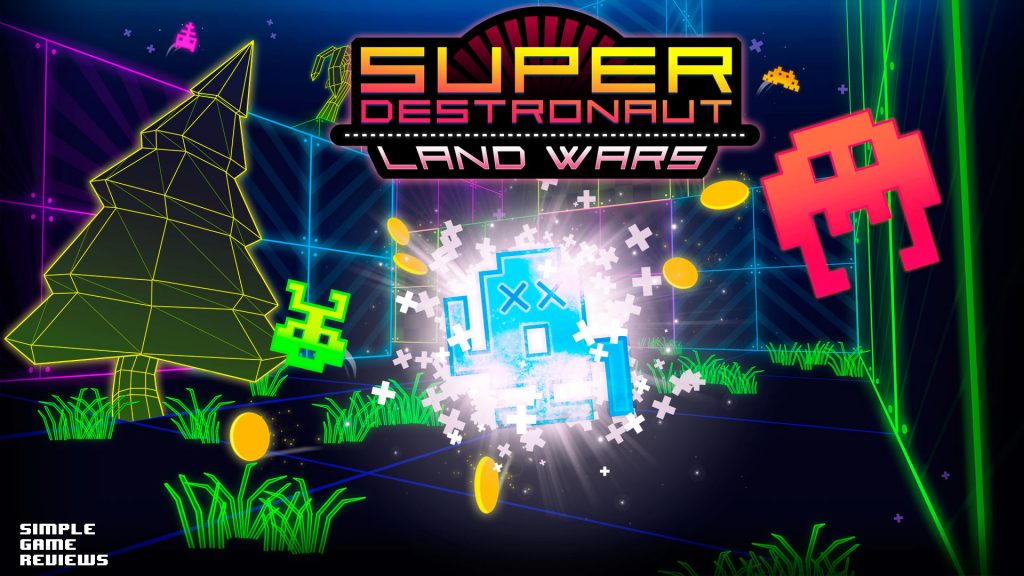 Super Destronaut: Land Wars from Publisher Ratalaika Games and Developer Petite Games Repetitive but enjoyable retro FPS
A Neon First Person Shooter
The game is a First Person Shooter where you shoot enemies and pick up the coins they drop to buy upgrades for weapons and health. It has two game types: challenge, and arcade mode.

Challenge Mode has 30 stages to play and provides you with a specific challenge you need to complete before receiving your Gold, Silver, or Bronze rating. The ratings are based on how quickly you complete the challenge but there's nothing to indicate what the requirements are for each rating until you complete the stage and see what your time was.
The first 15 levels or so, we didn't find the challenges to be particularly challenging. Most of these stages were able to be completed in under 1-2 minutes. At times, the most challenging part is just finding the enemies.

Arcade Mode has 5 game types
Classic Mode – Normal Classic mode
Hardcore Mode – More Enemies with more HP
Combo Breaker – You need to keep a combo going if it runs out its game over.
Maximum Strength – You start out using a Rocket Launcher.
Snail Mode – You move slowly and can't jump.
We enjoyed classic mode and maximum strength mode the most.

The artstyle is a neon voxel and has a retro mid 80's feel. Enemies look like they could've been taken right out of arcade classics like Space Invaders or Centipede. The level design and sound effects fit the game's aesthetic and are in keeping with that retro feel. They chose dubstep for the music. While this is not exactly in keeping with 80's retro it still feels like a good fit for the gameplay. While the controls are very simple they work nicely and are pretty responsive.

Sadly, there is only one map that is used for every stage both in challenge mode and in arcade mode. After about 15 minutes you'll figure out the fastest way to make it around the map and where to take cover during combat. While this does help make the challenges a little easier since you're familiar with the terrain, it also makes it more boring.

There is no story or narrative and the challenge mode (30 Stages) can be completed in under 1 hour. With no online leaderboards, once you complete the challenges you are unlikely to replay them unless you want to try to get a higher rating for personal reasons. The arcade modes were more enjoyable as the stages last until you die (or lose your combo in Combo Breaker). That at least kept things going longer than a couple of minutes.

Super Destronaut: Land Wars is available on Xbox One, PS4, PSVita and Nintendo Switch. A digital copy of this game was provided to SimpleGameReviews for the purposes of reviewing the game.