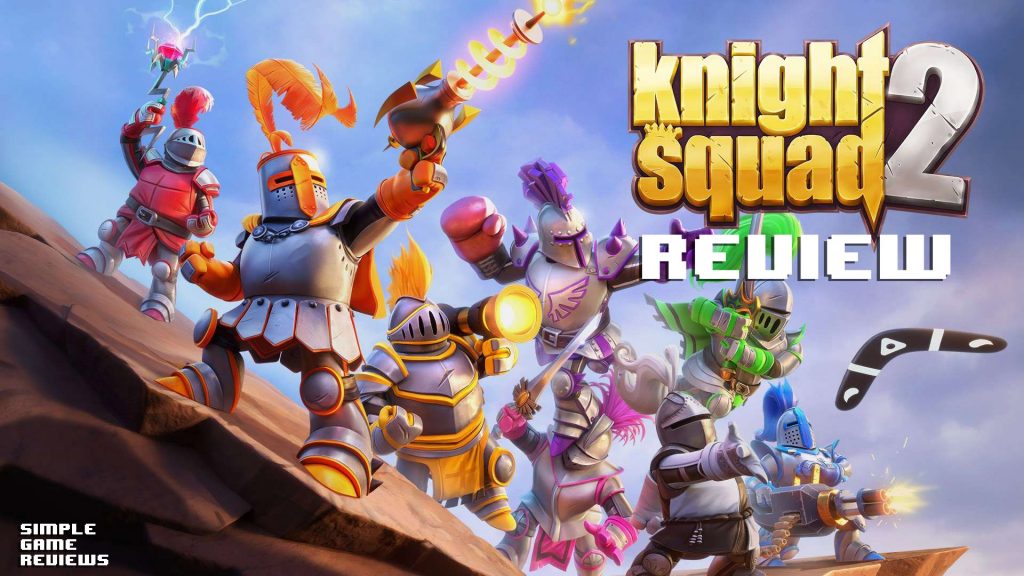 Knight Squad 2 from Publisher and Developer Chainsawesome Games Top down, fast paced, multi-player, medieval fantasy combat. Good for adults and adolescents. Multiple match options for online or local play. Supports cross platform online matchmaking.
Knight Squad 2 is an arcade style multiplayer game with both online and couch co-op options. As we're sure you've guessed, it is the sequel to Knight Squad. Just like in the original game there are multiple Knight characters for you to choose from and more that can be unlocked by completing various in-game requirements. Some of the requirements are as simple as entering a cheat code while others can be a little more challenging like holding a special weapon for a set amount of time. Sadly, it really doesn't matter which knight you choose. It's really just a skin/color change and a unique "emote" that you only see on the character selection and match end screen. 
There are thirteen different game modes to play and enjoy. Each mode has several arenas (different maps) to play on. Each of the modes plays a little differently with unique requirements to win. All of them have a fixed top down camera perspective. We found it difficult to keep track of which character on screen was ours from time to time with them all running around over the top of each other. The gameplay is fast paced and the matches are short. After playing them all once you'll have a pretty good feel for which modes you prefer. Most of the game modes have a default time of 3 minutes which keeps the games short and enjoyable but this can be changed to make them longer or shorter to suit your preferences. Just like the Knights, you can also unlock new Battle arenas. Their unlock requirements are much clearer; all you need to do is win on the previous map to unlock the new one. 
The game is easy to pick up and play, with the option to play against bots or people. The controls are also pretty simple which makes it easy for anyone to enjoy the combat. 
The game has two big selling points. First, is the many customization options for the match's variants. You can add modifiers, change the item spawn rate, or remove items all together. This allows you to keep the gameplay interesting and varied. Second, is that the weapons you use to fight the other Knights are great, weird, and even a little magical. You have both melee and ranged weapon options. Each of the arenas will have a few standard item spawn locations and a bunch of random ones. The randomized item spawns adds some challenge to the matches. When the weapons spawn and you run over them you will pick up a level 1 version of the item. Picking up the same item that you already have equipped will give you the maxed out version of it. The maxed out version does more damage and sometimes has bonus powers to it. 
You can play with up to 8 players locally or online. We liked that they give the option to back fill missing players with bots. This really comes in handy as you can't always get a full lobby when playing online. 
Overall the game is fun to play with a group of people and would be a good addition to a party game list. If you enjoyed the original, you'll love the sequel with its added options. Good for a party game. Price point may be contributing to lower online player counts.
Knight Squad 2 is available on Xbox, Nintendo, and Steam. A digital copy of this game was provided to SimpleGameReviews for the purposes of reviewing the game.