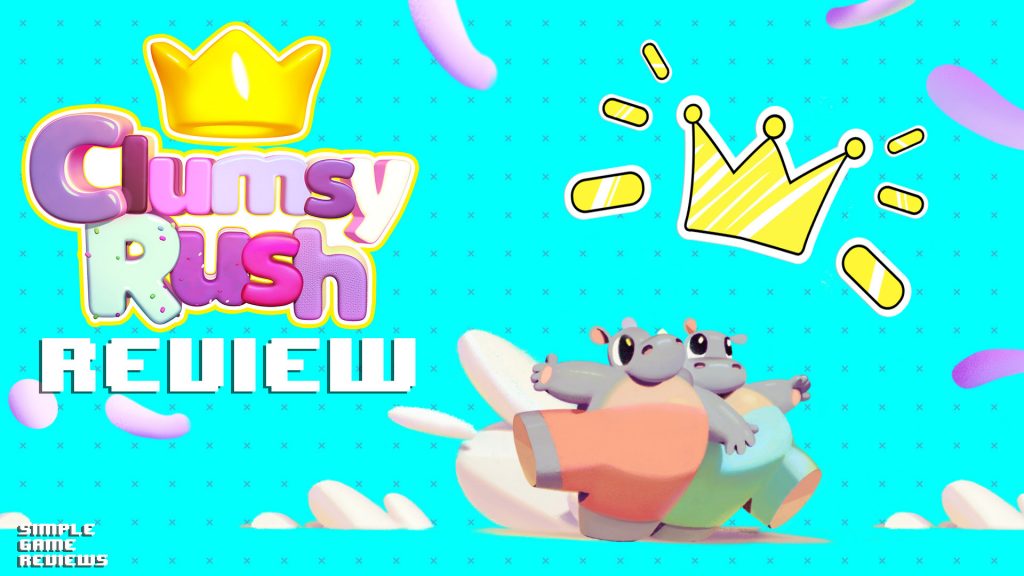 Clumsy Rush from Publisher RedDeerGames and Developer NerfGame Couch co-op game of reverse-tag with cartoon hippos racing to a finish line. Variety of different physics mechanics and obstacles. Good for young gamers.
A competitive couch co-op party game for up to 4 players. You play as a Hippo. Your goal is to grab the crown and race to the finish line while wearing it. Sounds easy right? Well, not so fast, buddy. There is only one crown and everyone is trying to get it. Opponents can charge each other and knock the crown off to steal it. But you can't charge while you're wearing the crown or it will fall off on its own. This makes it a little bit of a challenge to avoid the attacks of the other players.
There are also a lot of different obstacles on the path. And they change every time you start a new race. Some of these will slow you down or speed you up or push you around. They can be used to your advantage to speed up or slow down your opponents or to help you dodge an incoming attack.  
There are 27 different Hippo outfits present in the game for each player to customize their character. This helps distinguish one player from another on the screen. It looks like more skins might be added to the game in the future as the outfit screen has a "…" at the end of the list hinting at more to come.   
The standard controls for movement took a while to get used to as the triggers are maps to your character's feet. Moving requires you to have some rhythm when attempting to move in a straight line. Luckily, the game has another control option using the left thumbstick to move your Hippo which allows you to easily control your movements. With the original controls we found ourselves spinning instead of going straight when we tried to go fast until really getting the proper rhythm.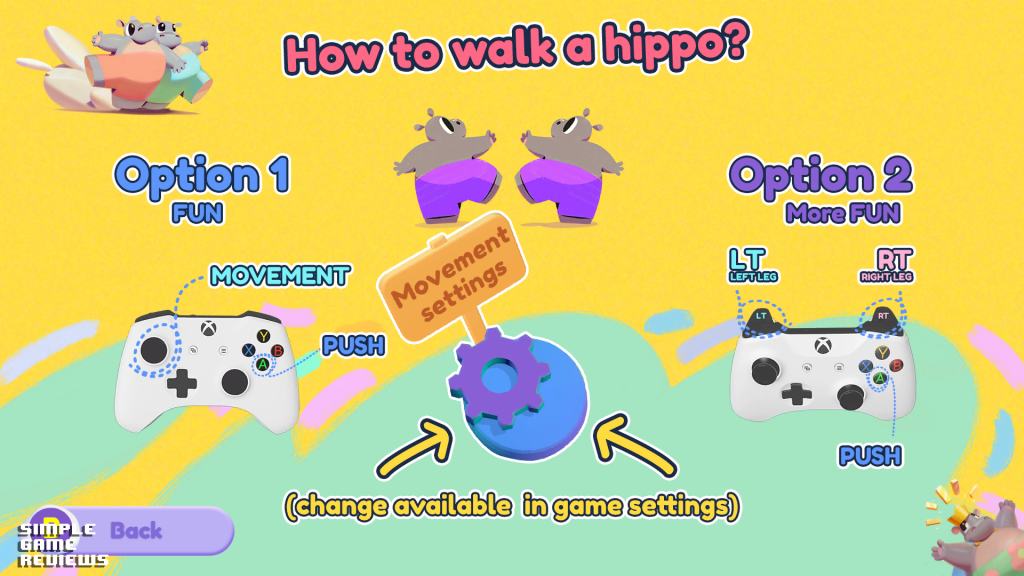 There are several different game modes to choose from. These are more like modifiers then truly different modes. They add ice, reverse your controls, or make you bounce off anything you bump into just to name a few variations. New game modes are unlocked by completing races. This helps keep interest levels up and build excitement for what the next unlock will be. There are a couple of game modes that are unavailable if you are using the thumbstick control scheme instead of the default one.
Most of the games are kinda short and can be completed within 1-2 minutes depending on your choice of controls and how aggressive your opponents are.
The graphics are bright and colorful in a cartoon style that will appeal to young gamers.
Clumsy Rush is available on Xbox, Nintendo Switch and Steam. A digital copy of this game was provided to SimpleGameReviews for the purposes of reviewing the game.