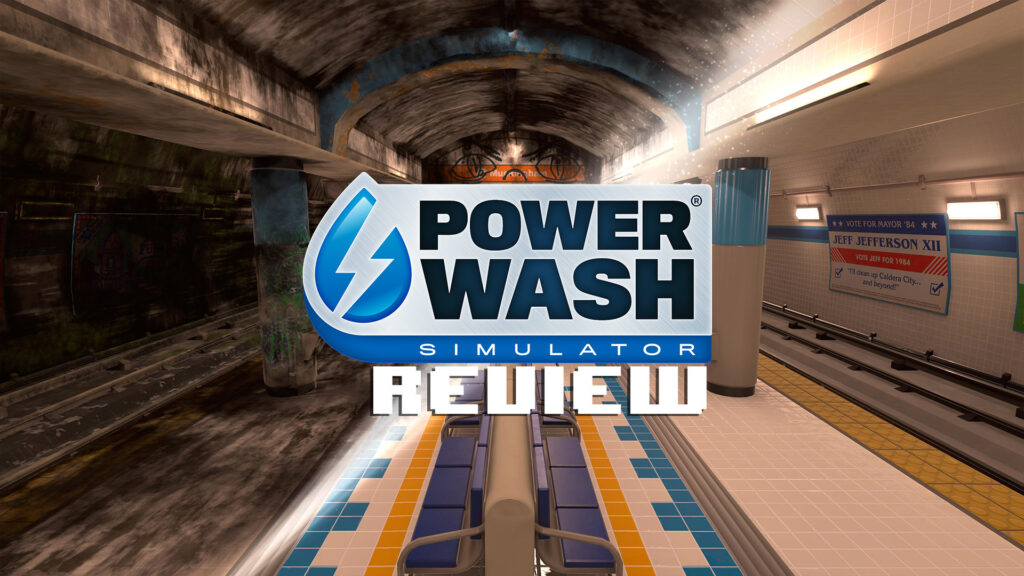 PowerWash Simulator from Publisher Square Enix Collective and Developer Futurlab Excellent power washing sim with a delightful story. Great for zen-ing out and relaxing after a long day.
There is something very relaxing about cleaning a dirty object and this game does a great job capturing that feeling. You might think it's a simple simulator for power washing and it might be a little boring but, you couldn't be more wrong. Yes, it is a simulator for power washing, that much is true. But this deceptively simple concept masks a really fun little story with some interesting characters.
You'll start the game with a basic power washer and a text from a friend. As you continue cleaning you'll see more messages pop up and the text messages are how you'll be notified of new job opportunities. Most of these appear to come from referrals from your very satisfied customers. These on screen text messages are also how you experience the delightful story in the game.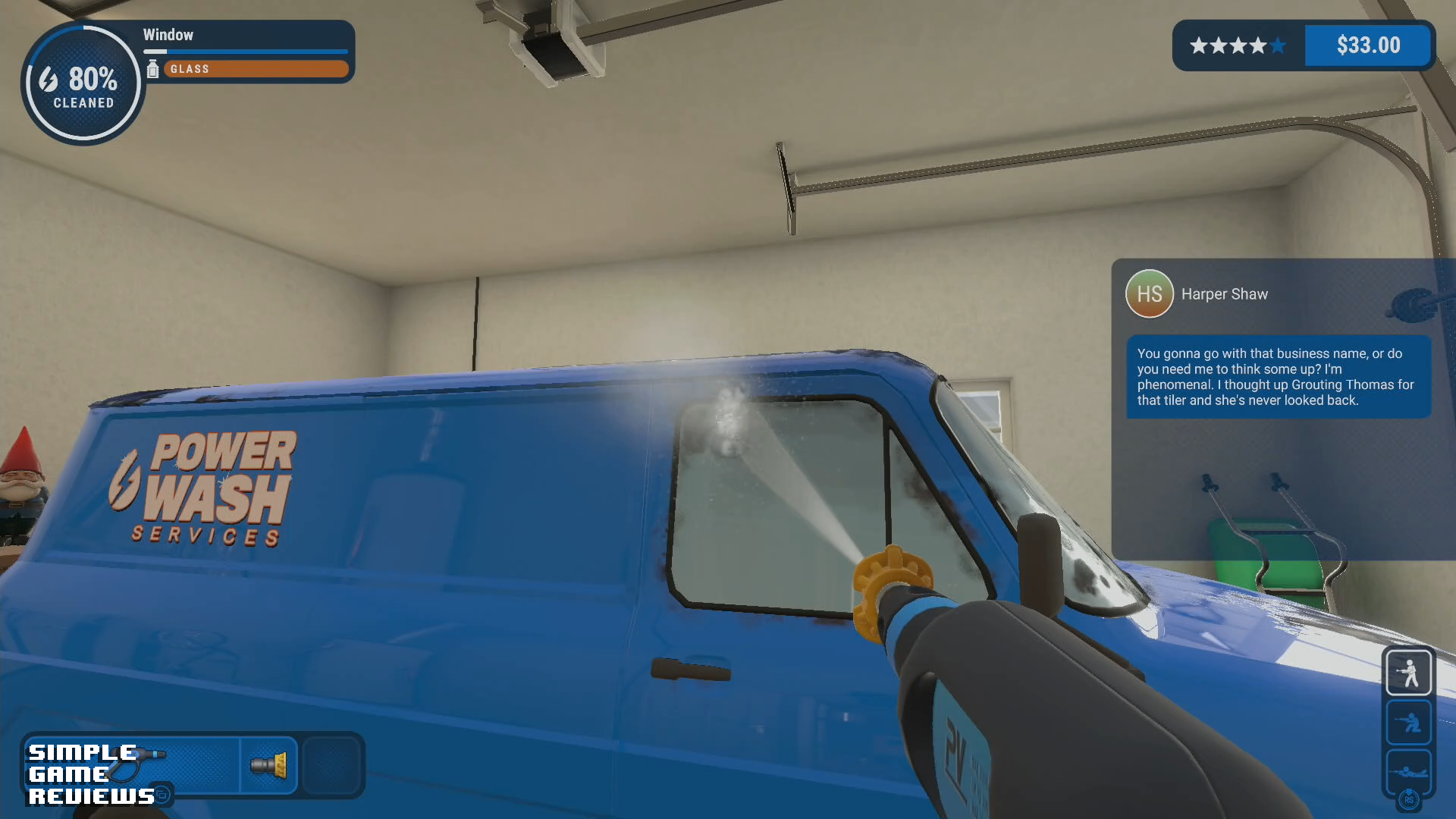 If you miss some of the on screen text messages you can pull up your in-game tablet and reread them on the messages tab of your job. Sadly, when re-reading the messages in this tab it doesn't tell you who the message is from so if you miss that when it first pops up on the screen you won't be able to tell who said what later. We did notice that while playing co-op the messages only showed up on the host's game. We would have loved to see the messages on both players' screens and been able to tell who they were from when reviewing them from the messages tab of the job info.
There's a solid difficulty progression introducing you to steadily larger or more complex buildings and vehicles to clean. They have different degrees of difficulty on the dirt and stains that need to be removed as well as the sheer size and shape of what needs to be cleaned. For every level you complete in Career Mode you'll earn both stars and money. The money is used to upgrade your equipment, buy soap to make the cleaning a little easier, or buy skins for your character and equipment.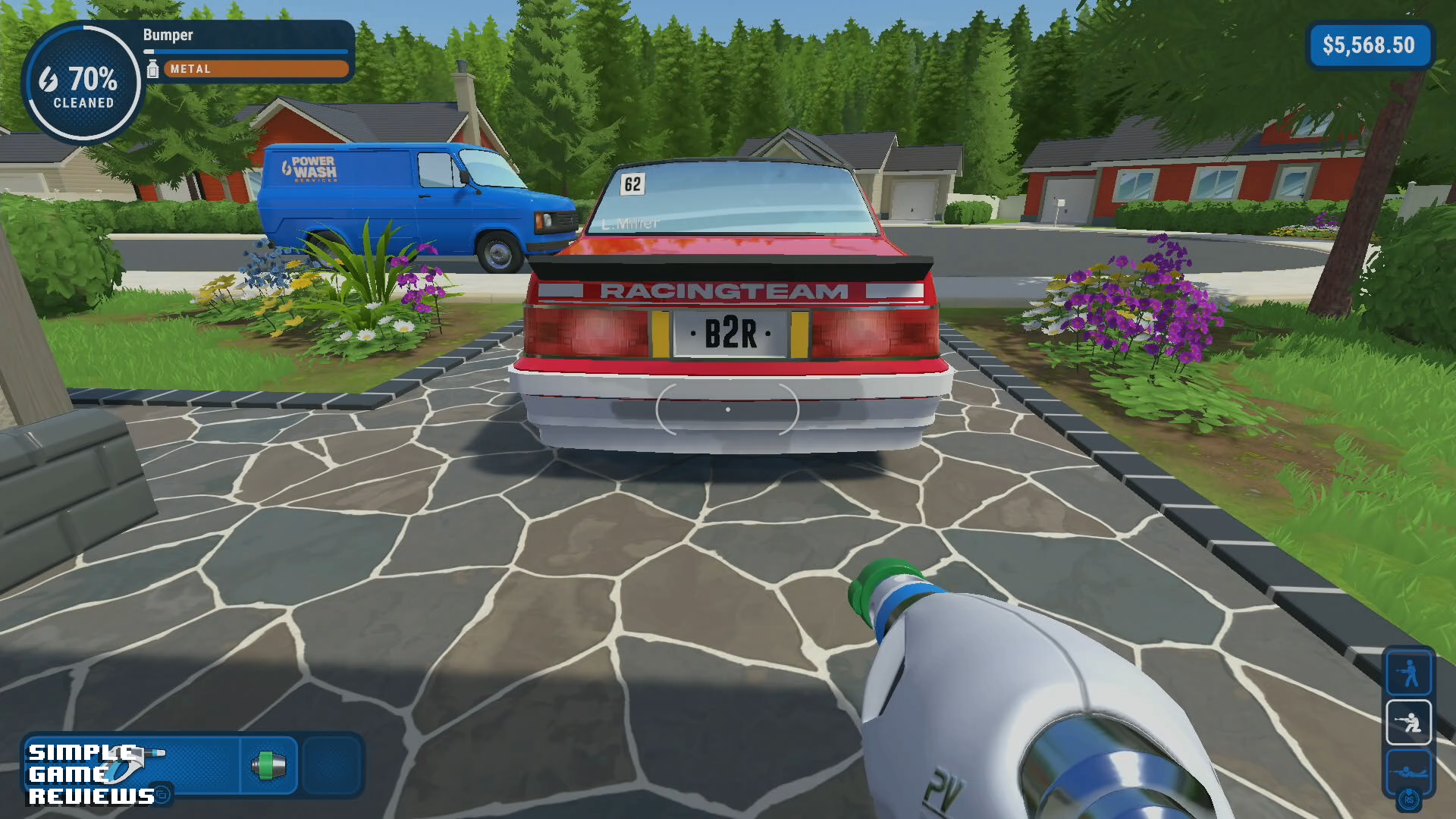 They helped balance the difficulty curve by locking the more powerful washers behind not just a price tag but also a "stars" requirement. This ensures that you have to be at least X far into the story before you can purchase them. Each level earns you 5 stars upon completion.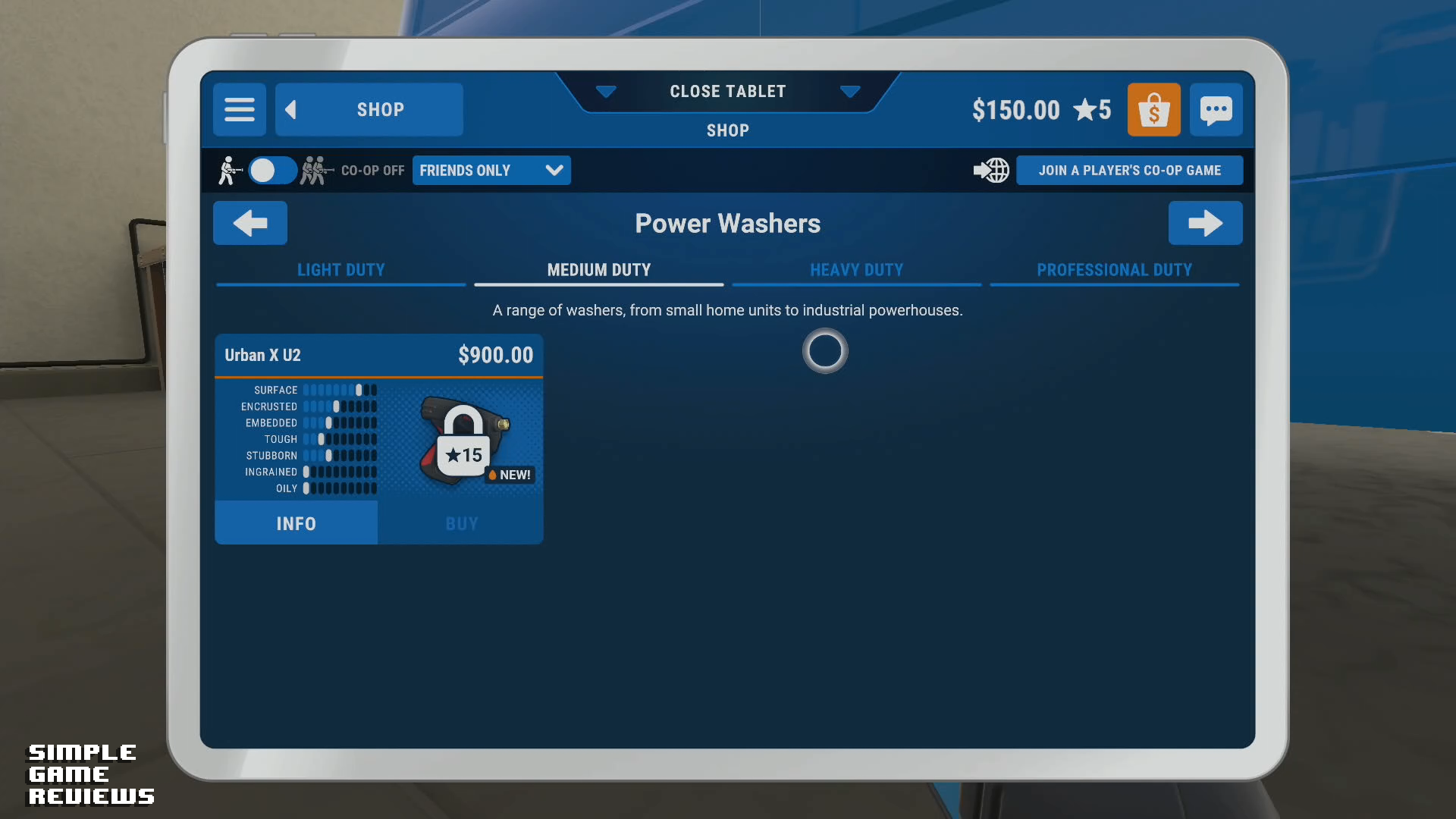 While cleaning, some of the stains are easy to remove while others will take more pressure (swapping nozzles) and require you to move a little more slowly over the area. The game does give you some "forgiveness" when cleaning during the earlier levels letting you complete areas without getting every speck of the dirt/stains. As you advance into the later stages of the game there is less wiggle room and it becomes harder to ensure all of the dirt is cleaned away. There is a dirt finder button which highlights the dirt for a few seconds. This becomes a mandatory tool on many levels. We would have loved to be able to double tap the button and have the dirt stay highlighted instead of fading after a second or two but that is not currently an option. We did find a few times that even using the dirt finder we were unable to see the dirt and had to go over the area again from different angles and pay close attention to corners and "seams" to remove the missed dirt.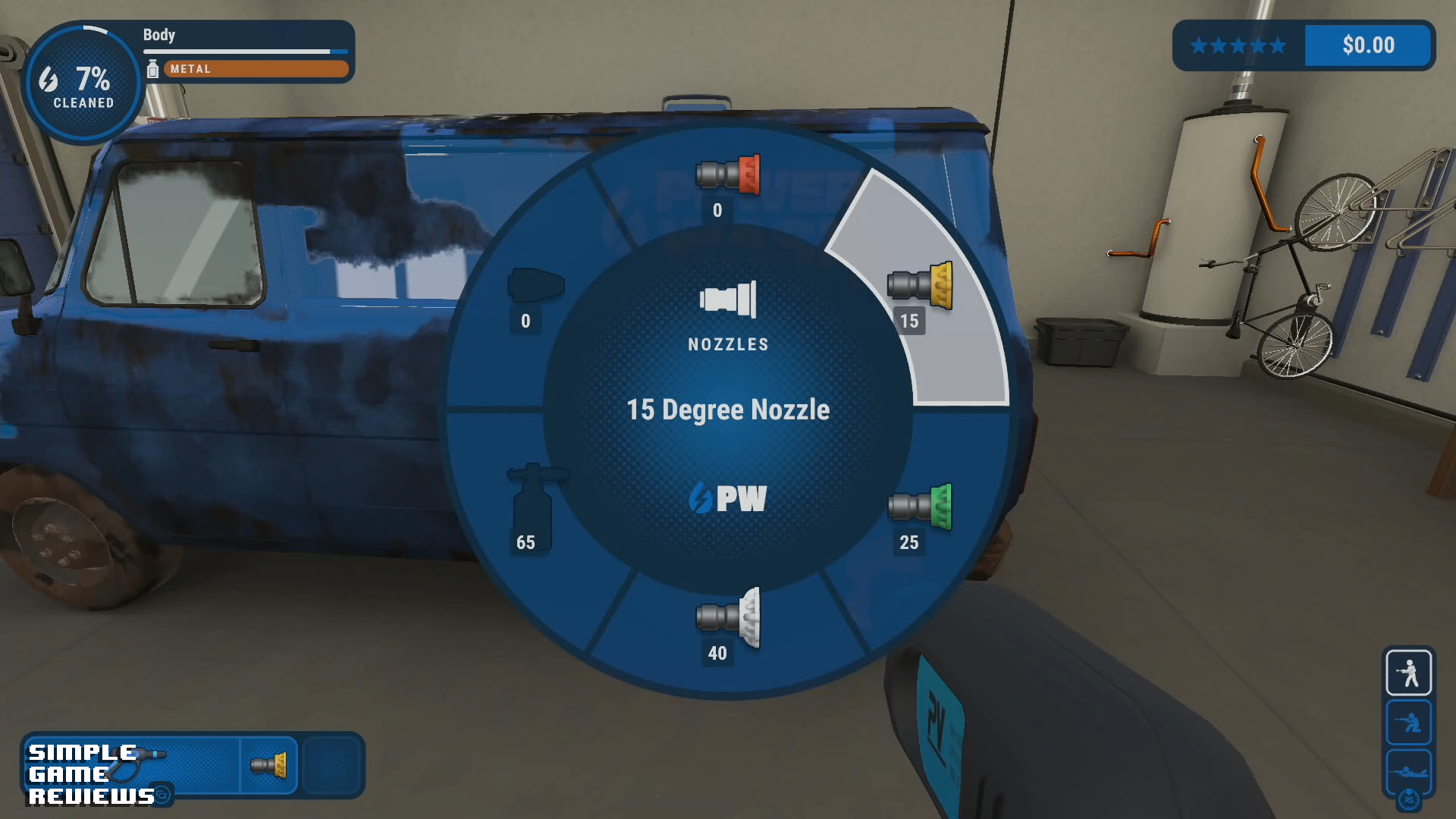 The game doesn't have a soundtrack, just ambient sounds (background noise) which is a good thing for a few reasons. 1.) If/When you're power washing in real life, you probably have headphones in and are listening to whatever you want. 2.) With the amount of time it takes to complete some of the levels you will get tired of hearing the same songs over and over again.
There are a few different modes to play which adds to the replayability. Career mode is the story mode for the game, Specials lets you clean unique objects, Challenge Mode where you need to complete the job within a certain amount of time or within a set amount of water being used, and of course, Free Play which lets you replay any Career Mode level you've already finished. All but 1 mode is playable in co-op (Challenge Mode is 1 player). Career Mode lets you play in a 2 player co-op while Specials and Free play is up to 6 players which lets you complete a job very fast.
While playing the game in co-op we did notice a few things that seemed a little odd. Only the host was able to buy upgrades or soap from the shop. The second player could not use soap at all and only had access to the upgrades that the host had. We understand the upgrades as the second player could have already unlocked the highest tier equipment and made the job easier than intended. And as previously mentioned, the story texts only seems to show for the host. One of the benefits of playing in co-op (other than completing the job faster) was the second player got the same amount of money for completing the job as the host did. When the second player goes back to their own game they will have all of the extra money they earned while in co-op. When replaying a level in free play the amount of money you receive is pennies on the dollar compared to finishing the job in the career mode. Luckily after completing the campaign you should have more than enough money to get all of the upgrades, soap, and a few cosmetic items.
Overall we were surprised at how much we enjoyed the game and how fast the time flew while playing it. Don't be surprised if you start playing it and the hours just wash away all while having some good clean fun.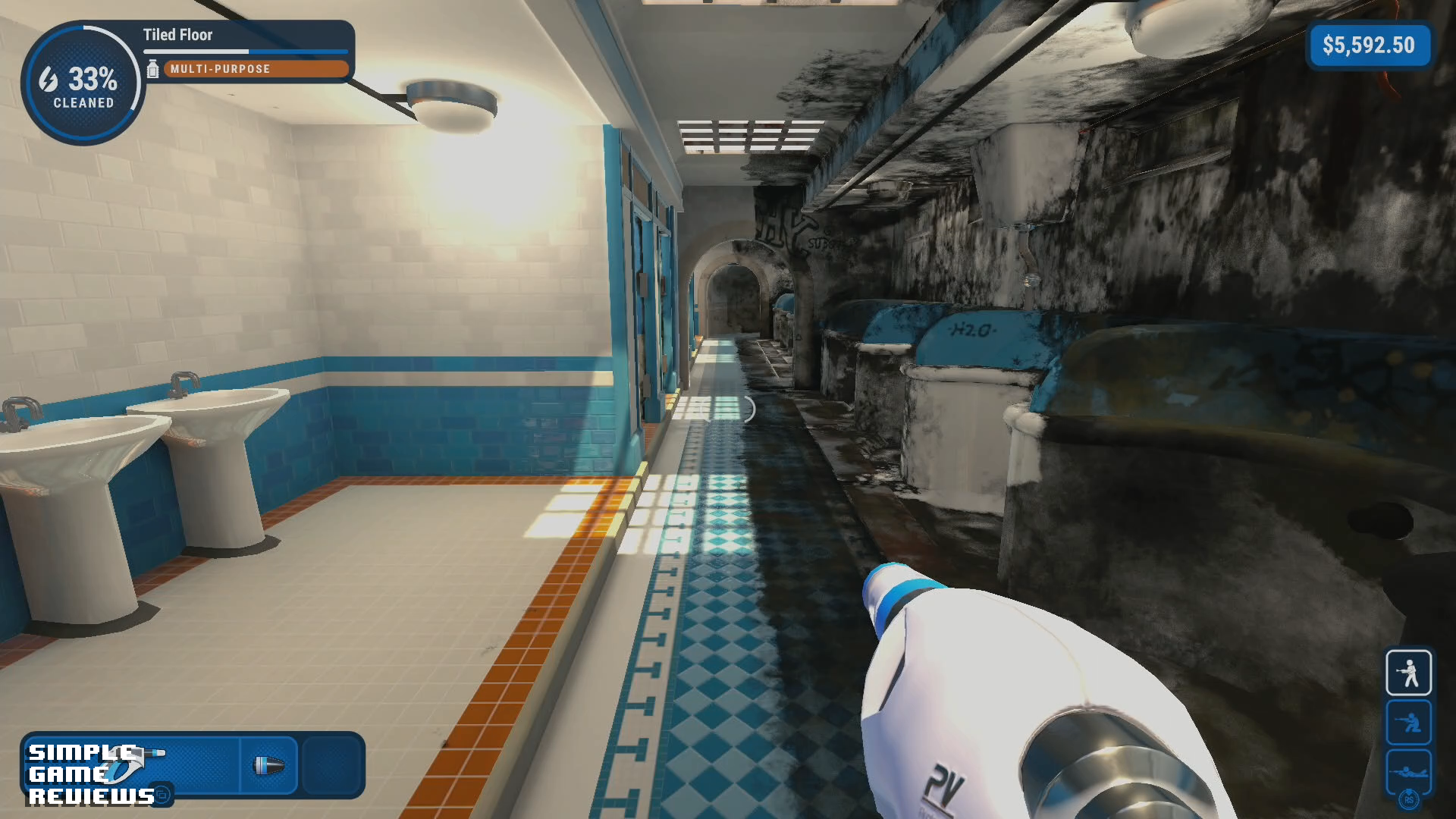 PowerWash Simulator is available on Xbox, Windows and Steam.