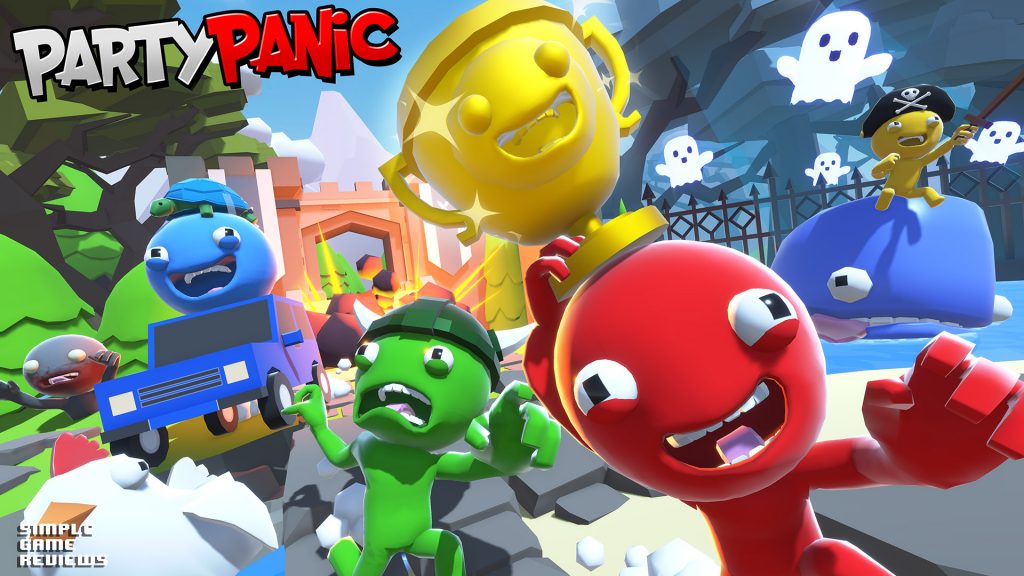 Party Panic from Publisher and Developer Everglow Interactive Inc. A party game probably most enjoyable when using the "drinking game" mode. Lots of mini-games, some with challenging physics.
A very colorful group of Mini Games (Party Game)
There are over 30 minigames to play, enjoy, or get frustrated with. It has online or local split screen co-op both with the option to add bots which is always nice to see in a party game.
There are multiple options for customizing your character to make it fit your personality. You can change the color and add a little bit of flair with various hats, glasses, capes, and some other items. As you complete the different game types you get to win loot boxes. These can be opened from the main lobby and each will give you the choice between two clothing items. We really liked having the option to pick which of the items we wanted.
There are a few games modes to pick from and play. The two "Party" game types have the option of turning them into a drinking game.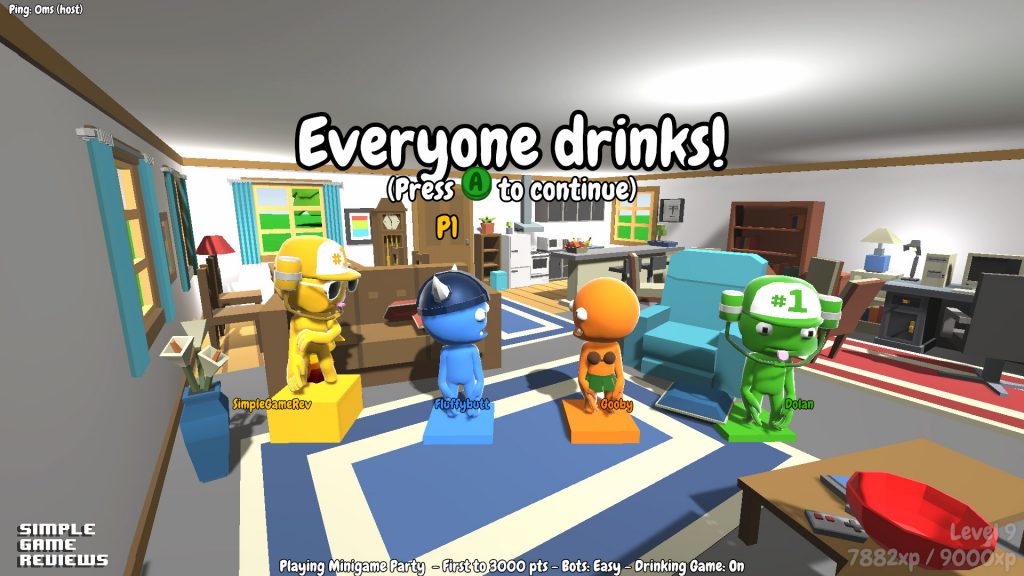 Minigame Party – Which randomly cycles through the list of minigames.
Custom Party – Same as Minigame Party but you can remove games from the list of possible games to play or to practice. We liked having the option of removing the games that we didn't like or had played too frequently.
Gauntlet – Make your way through a procedurally generated obstacle course. This keeps the gauntlet interesting as you never know what obstacles you might run into. They also let you choose how many obstacles to add so you can make the course longer or shorter.
Board Game – This is a "Mario Party" type board game with two different boards to choose from. You will need to roll a dice and move around the board. After everyone completes their moves it loads into a random minigame. They made the choice of having you manually move your character around the board. This lets you explore the board and figure out where your character will stop or which path you will choose to take. You can also choose to punch or kick your opponents when you're passing them. We would have liked to see the option to have the character move by themselves to help expedite the game play.
Trophy Island – You get to free roam and explore Gooberland trying to locate and collect trophies. There are some areas that are blocked off initially and get unlocked by exploring and interacting with the environment. While in Gooberland you will have to complete challenges in order to collect some of the trophies. Some of the challenges are enjoyable while others are very challenging due to issues with the game mechanics/physics. These issues stand out the most while driving the car and during some of the precise platforming.
We ran into an issue where our character did not spawn into a minigame forcing us to sit out on that game. While playing the Board Game mode we noticed that it picks the games in a truly random way. Some games appeared more often in the rotation than others so that we had played the same mini-games a few times before seeing new ones. We also had issues with the camera clipping through walls while exploring Trophy Island.
The art style is a little cartoonish with the characters having very long arms and large heads. While playing you will notice the characters making random weird facial expressions to other characters or just at random times. These can be rather amusing.
Party Panic is available on Xbox One, PS4 and Steam. A digital copy of this game was provided to SimpleGameReviews for the purposes of reviewing the game.