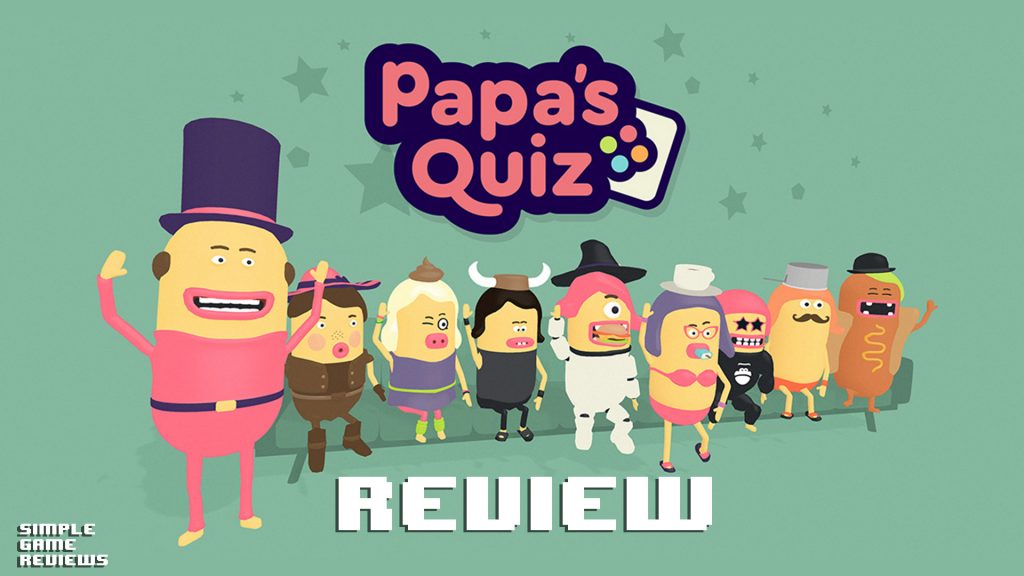 Papa's Quiz from Publisher and Developer Old Apes Pretty basic trivia party game. Could be more polished in a few areas but is still enjoyable for those that like quiz show party games.
Papa's Quiz is a party/trivia game for up to 8 players. Players can either use a controller, phone, tablet, or any web browser to play the game. Much like the Jackbox games, you will go to a website and use the game code on the game screen to enter the game or you can scan the QR code instead. The "controls" appear on the screen of your chosen device for players using a mobile device or web browser. They are simply four colored buttons that resemble controller face buttons. 
There are 2 hosts for the game, Mr. Papa and Sir Monty, who provide instructions and a little color commentary during the game. The host characters' voice overs are done in a stilted robotic style and could have been better as they are a little distracting at times.
You are able to customize your avatar in several different ways to make it feel unique and more like your own style which is always nice to see. They have a variety of stock hats, eyes, mouths, outfits, and names for you to mix and match.
When the round starts you are shown 4 categories to pick from. Choosing the category is a minigame all on its own as everyone is able to fight for the category they want by spamming the buttons on their screens to move the pointer to their desired category. They have a "junior" category in the lower corner with questions for younger gamers. This is nice to have so gamers of all ages can enjoy the game.
After you fight over the category, the questions begin and the first person to answer it correctly gets the higher number of points, second gets less and so on. When you press the button to select your answer a clock will appear beside your character to let you know how long it took to pick your answer. There is a round where the first correct responder is able to steal points from another player of their choice. In this round that is the only way to earn points. After each round the player with the most points earned in that round is able to show off their dance skills or skip it if you want.
One of the issues we found when playing was that when attempting to stream the game the questions/answers were only present on screen and not on the devices putting anyone not playing locally at a huge disadvantage since the time delay would hurt their score. This puts them at a major disadvantage in the final round where your points get converted to time and the last player standing wins.
While the game is said to have 3000 questions and 185 categories in our experience a few categories seemed to come up repeatedly making it seem like there were a lot less options. It is still an enjoyable party/trivia game for those like this genre especially if you have a fun group of friends to play it with. 
Papa's Quiz is available on Xbox, Playstation, Apple TV, and Steam. A digital copy of this game was provided to SimpleGameReviews for the purposes of reviewing the game.